Kidepo Valley National Park
Kidepo Valley National Park is a covering of an area of 1,442km2, Uganda's most spectacular wilderness, Kidepo valley national park. Gazetted in 1962, same year Uganda got its independence, it is the most authentic of the African wildernesses in Uganda and probably the least visited parks due to the long haul journey of travel. Kidepo valley is located in the North-Eastern part of Uganda bordering Sudan and Kenya, in the Karamoja region. It lies at an altitude range between 914 m and 2,750 m above sea level. This consideration, combined with the valley's open, savanna habitat, makes it the park's prime game viewing location.
Indeed it is possible to sight a good variety of wildlife simply by scanning the valley with binoculars from the comfort of the Apoka lodge. It is much interesting to take a trip to Kidepo by use of surface Road transport which provides en-route view drives and charter flights are booked from Entebbe-Kajjansi airstrip to reach Kidepo.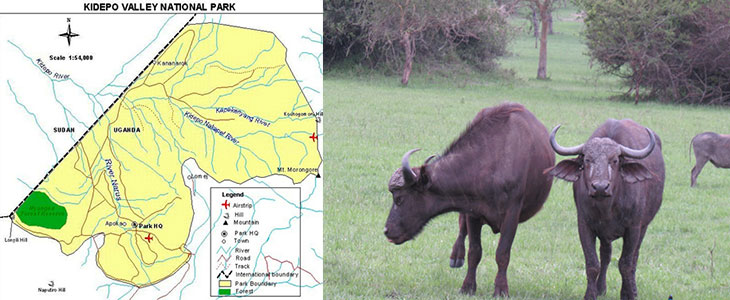 Kidepo Valley National Park
Species in Kidepo Valley National Park
The vegetation is dominated by an open Savannah, with dry mountain forest and acacia forest. The park hosts at least 86 mammal species (elephants, zebras, giraffes, buffaloes, bush pig) including many predators. Like black backed jackal, African hunting dog, bat eared fox, cheetah, caracal, lions, and leopards. There are 17 antelope species. The bird checklist is of 475 recorded species, including 56 raptors, like pygmy falcon, Ostriches], tawny eagle, secretary bird, vultures.
Activities in Kidepo Valley National Park
A number of game drive loops direct visitors to wildlife viewing locations in the Narus valley in the South West of the Park, mountain hiking, bird watching, camping, community visits and cultural performances participation.
Accessibility to Kidepo Valley National Park
The park can be reached by both road and air. Driving is more rewarding, as much of Karamoja, like Kidepo itself, is a vast and untouched wilderness. However, road conditions are sometimes difficult and 4WD vehicles are usually essential.
There are four possible routes by road: routes via Mbale pass to the east of Lake Kyoga to reach northern Uganda routes via Karuma pass to the west.
Kampala – Karuma – Gulu – Kitgum – Kidepo = 571kms
Kampala – Karuma – Lira – Kotido – Kidepo = 705kms
Kampala – Mbale – Sironko – Kotido – Kaabong – Kidepo = 740kms
Kampala – Mbale – Soroti – Moroto – Kidepo = 792kms
Visitors should note that the road mainly in use from Kotido to Kaabong passes via Kanawat not via Losilang as indicated on most maps. Inquire at Kotido. Prospective visitors should contact UWA Headquarters or Wild (the Apoka lodge operator) to obtain up-to-date advice about road conditions and safety to identify the preferred choice of route.
Charter flights to Kidepo may be arranged from Kampala (Kajjansi), Kampala Aero club, or Entebbe with Eagle Aviation. Flights take about two hours. The Civil Aviation Authority has plans to make Lomej, to the east of Apoka, an international airport to enable visitors to fly direct to Kidepo from other countries.
Accommodation facilities in Kidepo Valley National Park
At Kidepo Valley National Park accommodation is provided at Apoka lodge, N'gamoru wilderness camp (Luxury) and Uganda wildlife authority Banda's luxury and mid-range respectively. There is an option of camping in the park as well.