1 Day Kampala City Tour Uganda ( Kampala City Tour )
1-day Kampala city tour, also known as the city that never sleeps in East Africa, is located on the seven hills with a diversity of tourist attractions ranging from religious, cultural, historical and commercial attractions. This beautiful city, Kampala has grown and developed over the years and so has its hospitality and you will automatically feel at home.
Book Now
Kampala city Viewing from Gaddafi National Mosque
Highlights of Kampala city tour
Visiting Religious center
Historical and Cultural Interaction
Tour Commercial attractions and places
Service of English speaking driver or guide
Travel in a customized 4WD Safari Vehicle
Airport transfers
Detailed itinerary for 1 day Kampala city tour
Don't forget that Kampala city is the capital of the pearl of Africa which is gifted by nature, the city tour will take you through the following places as you get to view Kampala from all its different perspectives and wonderful endowments.
Baha'i temple
Completed in 1961, the Kampala temple is the mother temple of the Baha'i faith in Africa. It sits on 52 acres of land on Kikaaya hill against the western horizon of Kampala city, it represents oneness and unity with its nine-sided magnificent silhouette. It is surrounded by immaculate beautiful grounds which are serene with a wide range of birds and photographic opportunities. It is also known as The Dawning Place of the Praise of God.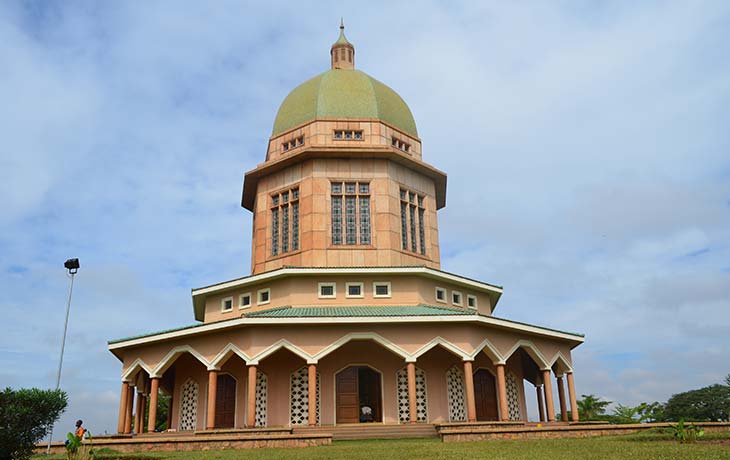 Visiting Bahai Temple
Gaddafi Mosque
It stands magnificently on old Kampala hill with the best view over Kampala city, commissioned by the late Colonel Muammar Gaddafi. The art with which it was built will totally amaze you, there is none like it in Uganda although Uganda has several mosques. The mosque has a cool atmosphere inside with plush carpets and rich Moroccan architecture and art. It presents a breathtaking view of the whole of Kampala city from its rooftop tower which can be accessed by climbing 280 steps to the top but it's worth it.
Touring around and inside Gaddafi National Mosque
Kabaka's Palace
This is the official residence of the ruling king in Buganda, you will be taken through the amazing history of this kingdom and you will be amazed at how these people of Buganda stood and fought to make Uganda what it is today, Buganda sits in the capital, Kampala, and much of Uganda's history flows from Buganda. The tour of the palace is very informative and opens up a lot about Uganda's history. The major stops here include The Twekobe, Empukku (Amin's torture chambers) and Bulange (Buganda parliament). You will definitely feel privileged to see where the great kings of all time in Uganda as a country called home.
Guided visit at Kabaka's Palace Mengo
Owino Market
Owino is just like thrift stores in western countries, however, Owino market is the largest open market in Uganda and it sits on 6 – 8 hectares with over 40,000 vendors, It is famous for the second-hand clothes it offers Ugandans at affordable prices. This market sells several other items ranging from electronics such as radios, and TVs, to local herbs, jewellery, and food and it is a very crowded place, but in the end, it is always worth the long fascinating tiring adventure one has to experience first-hand.
Craft markets
If you are in need of souvenirs, the Kampala craft market is the way to go, Kampala has a number of different craft markets which particularly host vendors like widows, youth, the disabled, and those living with HIV / AIDS, who locally hand makes the crafts to support themselves. So when you buy from the craft markets, you are supporting the underprivileged in the local communities.
Things to bring for the Kampala city tour
A rain jacket is essential as it could unpredictably rain
Light clothes as the sun does shine pretty bright in this part
Torch is essential for safety purposes
A good insect repellent to keep those persistent insects away
A good zooming lens camera for photos
1-day Kampala City Tour includes
Airport transfer pick up and drop off
En-route lunch
Driver allowances
Pure Bottled drinking water
Private Safari Vehicle
English speaking driver/guide
Visit the cultural and religious sites
All entrance fees
1-day Kampala City Tour excludes
Airfare
Ugandan Visa
Luxury drinks
Laundry
Gratitude to the local porter
Personal insurance
Personal shopping bills and cigarettes
Any other item not mentioned above