1 Day Mabamba swamp birding safari (Mabamba shoebill bird watching)
1-day Mabamba swamp birding safari; Mabamba swamp bay, which is a large wetland on the shores of Lake Victoria, covering 2424 hectares of papyrus, ferns, water lilies and other grasses in the shallow waters. The wetland is a favorable habitat for a lot of water endemics birds and the safari is featured on a dugout canoe, with up to 260 species recorded including annual migrants from Europe and other parts of the world. The Mabamba swamp is good for birding, but also the most intriguing home for the Shoebill which are a rare sight to many birding enthusiasts.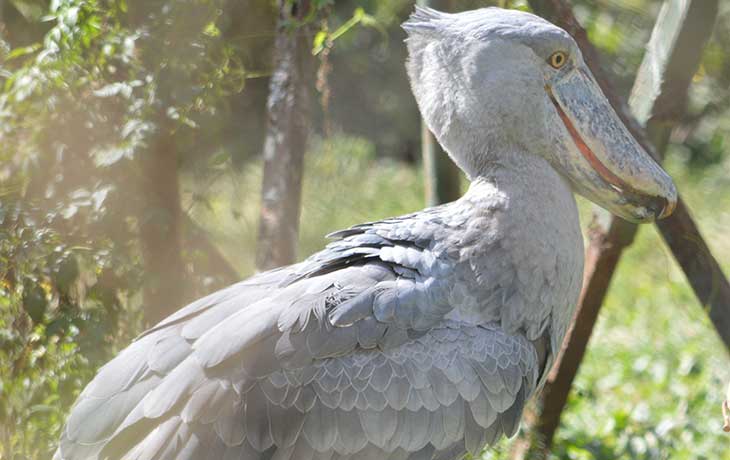 Highlights for 1-day Mabamba swamp birding safari in Uganda
Bird watching Safari on Mabamba bay.
Short route with ferry crossing on Lake Victoria.
An experienced English speaking bird guide.
Boat trip while birding in Mabamba swamp bay.
Airport transport.
An itinerary for 1-day Mabamba swamp shoebill birding safari in Uganda:
The Shoebill was considered a bad omen by fishermen who mostly populate the neighboring water body and the wetland itself. Other birds include African jacana, purple heron, black kite, African fish eagle, pied and malachite kingfisher, yellow-billed duck, white-faced whistling duck, cattle egret, long-toed lapwing, spur-winged lapwing, papyrus gonolek, hammerkop, black-winged stilt, common and wood sandpiper among others wooden motorized boats are used to ride through the waterways to access different areas of the swamps while looking for the Shoebill, other water birds and also enjoy the panorama of the wetland outlay.
The shortest access route to the Swamp of about 60 minutes is via Entebbe town and drive to Nakiwogo landing site then cross by the ferry to Buwaya landing. Thereafter drive for at least twenty minutes on a dirt road to Mabamba swamp bay for birding adventure.
What to bring for the 1-day Mabamba swamp birding safari in Uganda
Comfortable shoes to walk in.
Warm and light clothes as the swamp bay gets pretty cold.
Camera for filming.
Insect repellent.
Sunscreen.
Mabamba swamp shoebill birding safari in Uganda includes:
Pick up and drop off at your hotel in Kampala or Entebbe.
Boat rides in the morning and afternoon looking for the Shoebill.
English speaking driver with an on-sight bird guide and boat captain.
Packed Lunch with bottled water or soda.
Driver allowances.
Private 4x4WD safari vehicle.
However, Mabamba swamp shoebill Birding safari excludes:
Airfare.
Ugandan Visa.
Luxury drinks.
Laundry.
Gratitude to the local porter.
Personal insurance.
Personal shopping bills and cigarettes.
Any other item not mentioned above.