15 days Birding Uganda Safari with chimpanzee & Gorilla tracking
15-days Birding Uganda Safari, If there is one place that has been blessed with plenty of birds, it's none other than the Pearl of Africa. With this 15-day Birding Uganda safari, you will come close to all kinds of beautiful birds. You will visit the Mabamba Bay, Murchison falls where a variety of birds like the Shoebill stork, pelican bee-eaters, shallow, sprawls, and warbler is quite often spotted! Other activities encountered on this trip include game drives, boat cruises, Chimpanzee tracking, Gorilla tracking and some surprises waiting to greet you on this birding adventure.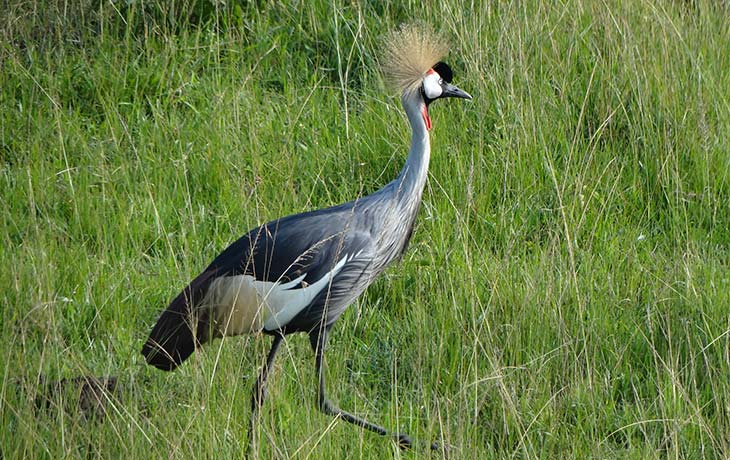 Grey Crown crane
HIGHLIGHTS FOR 15 days Birding Uganda Safari with chimpanzee and Gorilla tracking
Bird watching safari in national park Sites
A boat trip in Lake Mburo National Park
Private transport in an open roof 4×4 wheel drive vehicle
Services of an English-speaking guide
launch cruise on Kazinga Channel in Queen Elizabeth National Park
14 nights accommodation
Delicious meals
Big Game viewing in Uganda National Park
Mabamba swamp Bay Birding Uganda
Airport transfers
Itinerary for 15 days Birding Uganda Safari with chimpanzee & Gorilla tracking
Day 1: Arrival at Entebbe
Upon your arrival at the airport, you will be picked up by your safari guide/driver. Given time, we shall do some birding around the university hill and see some special birds here like, African hobby, Speckled Pigeon, Ross's Turaco, Brown and Grey Parrot, Klaas's, Dederick and Leivellants Cuckoo, Fork Tailed Drongo, Brown Crowned Tchagra, to mention but a few. You will check into your hotel for dinner and overnight at Entebbe botanical gardens / Airport view guest house. Meal plan: F/B.
Day 2: Mabamba Swamp bay Birding Uganda
After having your breakfast, you will transfer to Mabamba Swamp 50 km west of Kampala. On your way be sure to look out for some birds like the Papyrus Gonolek, White-winged Warbler, Northern brown Throated, and Weyns weaver to mention but a few.
Continue to Mabamba swamp for more birding. Most of the birding here is done on a canoe while viewing the beautiful birds of the Mamba swamp including the rare Shoebill Stork, African Water rail, Allen's and Purple Gallinule (swamp hen) Squacco, Goliath, Purple, Grey Herons, a variety of Egrets, duck. There are also chances of encountering the elusive Sitatunga Antelopes adapted to these swampy habitats. Return to your lodge for Dinner and overnight. Meal plan: F/B.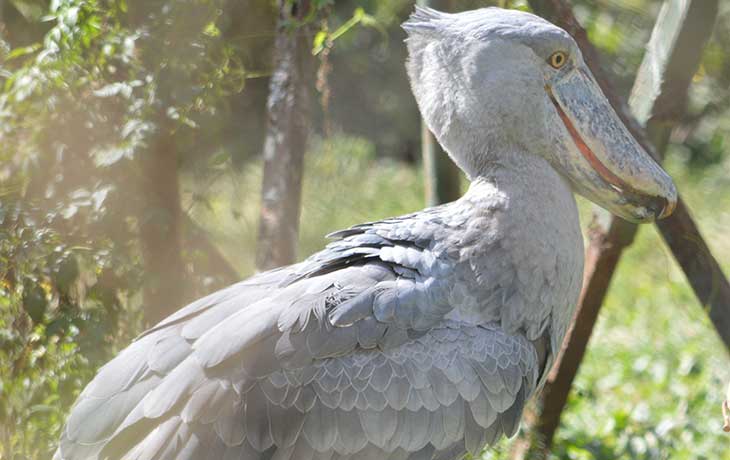 shoebill sotrk at Mabamba swamp bay
Day 3 – 4: BIRDING IN LAKE MBURO NATIONAL PARK
After breakfast, you will head to Uganda's smallest savanna park covering an area of 370 km2, home to many zebras, Elands Impalas and Topi. It has got a mosaic habitat of rock outcrops, dry hillsides, open and wooded savanna and forest swamps. A variety of habitats have contributed to the avifauna diversity and 313 bird species have been recorded in the Park including, Red-faced Barbet, Long-tailed Cisticola (Tabora), Papyrus yellow warbler, African finfoot, Northern Brubru, Rufous-bellied and white-backed night heron, Black-collared Barbet, Brown-chested plover, White-winged tit, Northern brown-throated weaver, White-winged Warbler.
Upon your arrival, you will check into your safari lodge and have lunch. Embark on a birding adventure after your lunch to get to see the various birds of Lake Mburo and tick your list off one by one with each different bird you will see, until you have seen most of them. Accommodation options: Mihingo lodge / Mantana Camp / Mburo safari lodge. Meal plan: F/B
DAY 5 to 7: LAKE MBURO TO BWINDI-BIRDING IN BWINDI IMPENETRABLE FOREST
You will transfer to Bwindi forest National park after your breakfast in Mburo. Bwindi is amazing bird watchers paradise amidst the magical thick canopies! You will have your lunch on the way to Bwindi and upon your arrival, you will check into your safari lodge where you will be staying for two days. You will straight away begin your hunt for the 350 bird species of Bwindi.
Bwindi is home to 90 % of all Albertine rift Endemic such as; the Short-tailed, Rusty-faced woodland and Grauer's Rush Warblers, Bar-tailed Trogon, Wilcock's Honey-guide, Yellow-eyed Black Flycatcher, Kivu Ground Thrush, Dusky Crimsonwing, White-tailed blue Monarch among others, difficult or impossible to see in any other part of East Africa. An experienced bird watcher can identify up to 100 species in a day and with an experienced tour guide, you will together be able to identify some of the most difficult birds. After your adventure, you will head back to your safari lodge for dinner and an overnight stay.
Day 8: Transfer from Bwindi impenetrable forest to Queen Elizabeth National Park
After breakfast, we will drive to Queen Elizabeth National Park another awesome birding spot. Upon your arrival, a game drive in Ishasha might be rewarding as we look out for the tree-climbing lions and Savannah birds. Later in the evening, you will check into your safari lodge for dinner and overnight. On the way to the lodge, be sure to look for more Birds like the African Hoopoe, Southern Red Bishop, Red Collared Widowbird and others as we drive to the lodge for dinner and overnight at Mweya lodge / Katara lodge / Bush lodge. Meal plan: F/B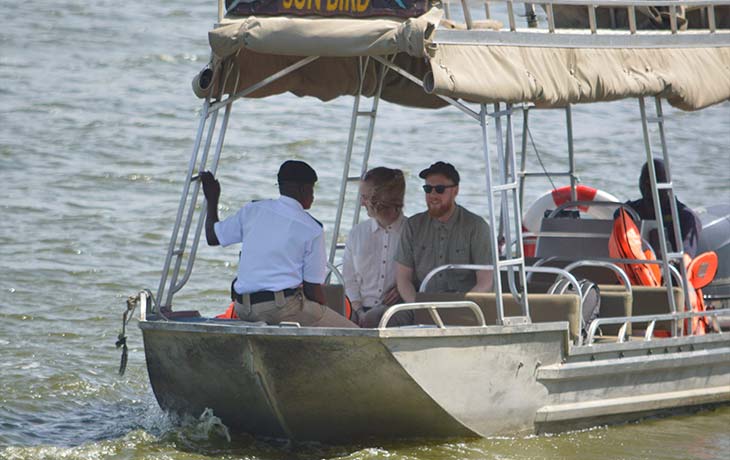 Boat cruise on Kazina Channel
Day 9: Day of Birding
This will be a full day for birding. After your breakfast, the Park and the hostel gardens, which are very good for Grey-headed Kingfisher, Swamp Flycatcher, Grey-capped Warbler, Slender-billed Weaver and Brimstone Canary. We will take an early morning game drive towards the famous Kasenyi Tracks, winding through grassland dotted with trees and nearby crater lakes.
Our main aim is to locate Lions and other mammals including Hartebeest, Buffaloes, Ugandan Kob ( an antelope that resembles impalas ), Oribi, Waterbuck, Bushbuck and family groups of African Elephants. Along the road, we may find Scaly Francolin, Red-necked Spurfowl, several plovers, Harlequin Quail and Common Button-quail. Larks are numerous and include Rufous-naped and the local White-tailed larks. Raptors include Martial Eagle, Banded Snake Eagles and Bateleur.
In the afternoon we embark on a boat trip down the Kazinga Channel, this incredible area for waterbirds will afford stunning views of Pink-backed Pelican, Saddle-billed Stork, Hammerkop, and African Spoonbill, Yellow-billed Stork, Water Thick-knee, African Skimmer and over-summering Palearctic shorebirds. In the evening before dinner, we will try a night drive within the peninsular searching for Gabon and Slender-tailed Nightjars, as well as owls. Return to the lodge for dinner and overnight. Meal plan: F/B.
Day 10: Birding safari in Kibale Forest National Park
After breakfast, you will head to Kibale Forest National Park for another unique birding experience on the way with our lunch boxes. This is a few hours' drive and therefore birding along the way and in the park as well, is possible. After your birding, you will check into your safari lodge for dinner and overnight. Meal plan: F/B.
Day 11: Kibale Forest National Park
This day will be spent at the Kibale Forest National Park with activities mainly being birding and Chimpanzee tracking. So, after breakfast, we assemble at the chimpanzee tracking briefing ground, where you will be briefed about the dos and don'ts of Chimpanzee tracking. It is not strenuous, but can sometimes take longer depending on our luck of finding these creatures. While tracking, we will be on the lookout for different bird species in this forest. Lunch will be organized according to the trend of the day's activities, either picnic lunch or a hot lunch.
Possible birds you may see include, the Scaly Francolin, Marsh Tchagra, Black-bellied Seed cracker, Green-backed Twinspot, Bicolored Manikin, White-naped Pigeon, Afep Pigeon, Narnia's Trogon, Joyful Greenbul, Olive Long-tailed Cuckoo, Black Bee-eater, Blue-headed Coucal, Blue-breasted Kingfisher, Scaly-throated Honeyguide and Black-faced Rufous Warbler. Dinner and overnight will be once again at Kibale Primate Lodge.
Day 12: Transfer from Kibale to Murchison Falls National Park
Wake up to an early breakfast, drive to Murchison Falls National Park, looking out for some birds along the way. You will have lunch along the way. Dinner and overnight at your booked lodge in Masindi. Meal plan: F/B
Breasted roller in Kibale Forest National Park
Day 13: Murchison Falls National Park Birding Uganda
This day shall be typically for birding and we will spend the whole day birding at Murchison Falls National Park. So, after your breakfast, we cross the river for a game and birding drive on the northern section of the mighty River Nile. Lunch at Paraa Safari Lodge and after lunch we shall proceed for a boat cruise to the bottom of the fall.
Key species of this park includes, Pel's Fish-owl, Standard – winged, Pennant-winged and Long-tailed Nightjar, Carmine Bee-eater, Brown-backed Woodpecker, African Black Scimitar bill, Brown-backed Woodpecker, Spotted Morning Thrush, Silver bird, Swallow-tailed Bee-eater, Bronze-tailed Starling, Beautiful Sunbird, Northern Red Bishop, Rock Pratincole, Four-banded Sandgrouse, White 6 rumped Seedeater, Black-billed Barbet, Green-headed Olive back, White-fronted Black Chat, Cabanis's and Brown – rumped Bunting, Black-rumped Waxbill and Bar – breasted Firefinch among others
Day 14: Full day Birding to Kampala
After your delicious breakfast, you will set out for a birding full-day experience coupled with a game drive on queen's mile, a good chance to see savannah birds as well as wild game. You will have a break for a warm lunch at your lodge and later resume your search for more birds. Later in the evening, you will return to your lodge for dinner and overnight. Meal plan: F/B
Day 15: Departure
After your breakfast and checking out of your safari lodge, you will embark on your journey back to Kampala, still, looking out for more birds along the way. You will have a lunch stop and continue driving back to Kampala. Upon your arrival, you will check into your hotel for dinner and overnight
15 days Birding Uganda Safari with chimpanzee and Gorilla tracking includes:
Airport transfers
Accommodation and meals as per itinerary
Bigodi walk
Game drives
En-route lunches
Visit Lake Bunyonyi
Park entry fee
Driver allowance and guide fee
Visit Mabamba and Mubwindi swamps
15 days Birding Uganda Safari with chimpanzee and Gorilla tracking excludes :
Airfare
Uganda Visa
Luxury drinks
Personal Laundry
Tips to local guides while birding
Telephone and porter fee while Birding
Personal insurance
Personal shopping bills and any other item not mentioned above