4 Days Rwanda cultural and community tour experience
4 days Rwanda cultural experience and community tour are more about historical, cultural, and religious traditions and engage in community activities and hospitality such as crafting banana bears, weaving baskets, or traveling to the garden to sow or pick vegetables depending on the season, you will have a great adventure experience. Visiting the gorilla Guardians cultural village will enlighten you more about Mountain Gorillas in Rwanda, and don't forget to take part in traditional activities like weddings at the palace, dancing, and hunting ways of livelihood.
Day 1: Transfer from Kigali to Mbyo Reconciliation settlement
After breakfast you will be picked up from your hotel and transferred to Mbyo Reconciliation settlement in Bugesera District a one hour's drive from Kigali. Actively participate and interact with locals who survived and those who took part in the massacre co-exist in the community.
The two groups will share their experiences, including how they attained peace and are presently coexisting. You'll check out some of their many woven goods when you visit the women's weaving group. You'll also go to a neighborhood garden to discover how people there cultivate their food.
Day 2: Transfer from Kigali to Eastern Rwanda and visit cattle keeping community.
Wake up as early as 5:00am and taking your breakfast while waiting for pickup and transfer from Kigali city to Eastern Rwanda, where residents on this part of the country customarily raise cows, as soon as possible in the morning. You will go to a property where cows are kept and learn a lot about raising cattle there. You will also receive hands-on experience milking cows and helping to graze the cows while learning about the various customs of the cow rearing community.
Day 3: Transfer from Kigali to northern Rwanda for a community and cultural tour
You will depart from Kigali early in the morning and head to Musanze in northern Rwanda to explore the neighborhood markets, you take a brief tour of Musanze town. Then participate in a neighborhood activity with the people, such as making banana bears, weaving baskets, or going to the garden to sow or harvest vegetables according on the time of year.
You will visit the Gorilla Guardians cultural village after enjoying a traditional lunch in order to witness and participate in a number of cultural performances, such as a traditional wedding in the palace, a traditional dance, hunting, etc. A night at the Red Rocks Campground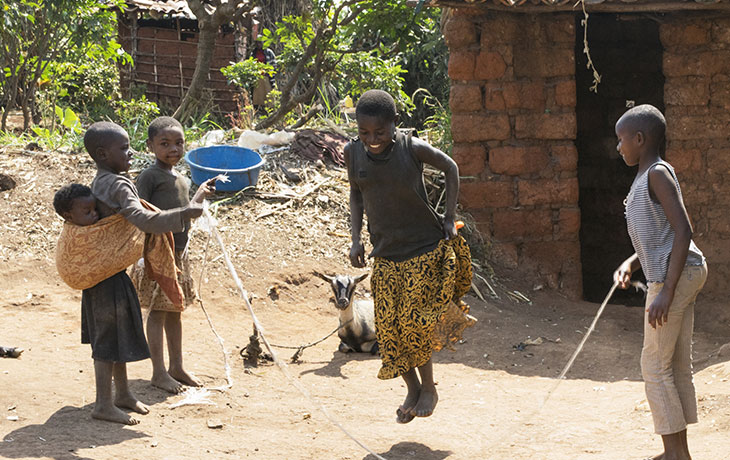 Day 4: Morning canoe trip and drive back to Kigali
You will embark on a morning canoe expedition on the Mukungwa River. As you row in the foothills of the Virunga Mountains, while exploring the lovely countryside, take in the view, and observe the locals living in the rural areas. You must drive back to Kigali after lunch.
4-days Rwanda cultural experience includes:
Private safari car (SUV).
Experience and professional tour driver or guide.
Full tank fuel.
All activities in the itinerary.
Meals as mentioned in the itinerary.
Accommodation for one night in Musanze.
Bottled drinking water.
Airport transfers pickup and drop-off.
Local taxes.
However, 4-days Rwanda cultural tour excludes:
Accommodation in Kigali.
Rwanda Visa.
Luxury drinks.
Personal expenses.