Car hire and rental in Uganda
Car hire and rental in Uganda and Rwanda; At Simba Africa Expeditions we have a variety of fleets of Top-class off-road Safari cars for rentals and self-drive services both in Uganda and Rwanda at a cost-friendly price, ranging from 4×4 Luxury extended Toyota land cruisers, 4×4 normal Toyota land cruisers, 4×4 Mini Vans (Toyota Hiace) and Executive rosa coaster buses, depending on your destination and number of people. The safaris types can be either; wildlife game viewing, Primate tracking adventure (Gorilla or Chimpanzee) or honeymoon experience in the wilderness.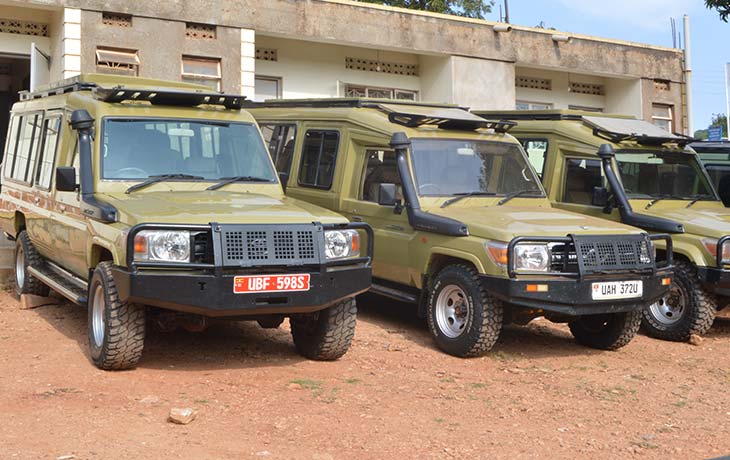 Fleet of Safari Car for rentals

Most of our safari vehicles are offered are customized for superb game viewing with pop up rooftop for 3600 views, fitted in air-conditioning, luggage cage in the back and rack on top, enough room space for leg stretching and most importantly the swivel window seat is a guarantee for each traveler on board.
All our safari vehicles are constantly serviced and inspected before and after a safari, thus this provides 100% assurance of no mechanical breakdown during your adventure experience as Uganda and Rwanda terrains are tricky and climate changes vary. For more information or booking contact us
Rates for Safari car hire;
Vehicle Type
Per day within Kampala
Per day outside Kampala
Safari Land cruiser 7-seater
$150 with a driver
$100 without a driver
$200 with a driver
$150 without a driver
Safari Land cruiser 5-seater
$120 with a driver
$80 without a driver
$180 with a driver
$130 without a driver
Toyota Safari Minivan 9-seater
$70 with a driver
$50 without a driver
$100 with a driver
$70 without a driver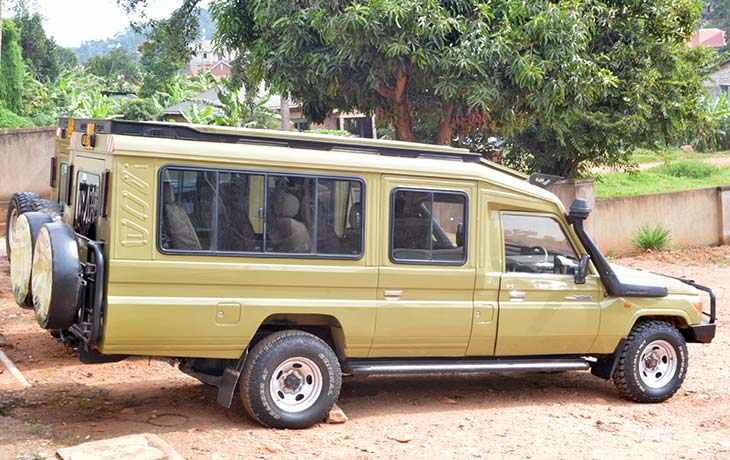 Toyota Extended land cruiser
Customised extended body with pop-up rooftop
7-seater capacity
2 fuel tanks to cover more extra mile on drive
2 spare tyres
Luggage cage and rack
Installed refrigerator
Toyota normal Land cruiser
Customised extended body with pop-up rooftop
5-seater capacity
1 fuel tank
2 spare tyres
Air-conditioning
Luggage cage and rack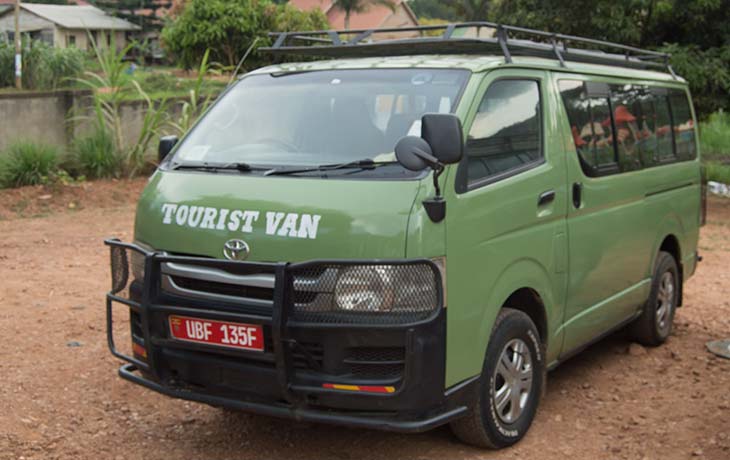 Toyota safari minivan
Customised extended body with pop up rooftop
9-seater capacity
1 fuel tank
1 spare tyres
Luggage cage
Air-conditioning
Installed refrigerator