3 Days Gorilla tracking Bwindi (Budget Gorilla Trekking safari Uganda)
3 days Gorilla tracking Bwindi Safari in Uganda is the main activity done in Bwindi Impenetrable Forest National Park' a habitat of close to half of the remaining Mountain Gorillas in the whole world! That is why the government of Uganda saw it fit to habituate these endangered species to prevent their extinction. It was introduced to facilitate and support the protection of these gentle giants.
While these 3 days Gorilla tracking safari, Tourists are charged a fee to go for Entebbe. After the pickup from the airport and getting refreshments, you are given a brief insight into the safari by our driver/guide and the official tour manager. This Uganda Gorilla Tracking Bwindi Safari trip breakdown is as below.
Book Now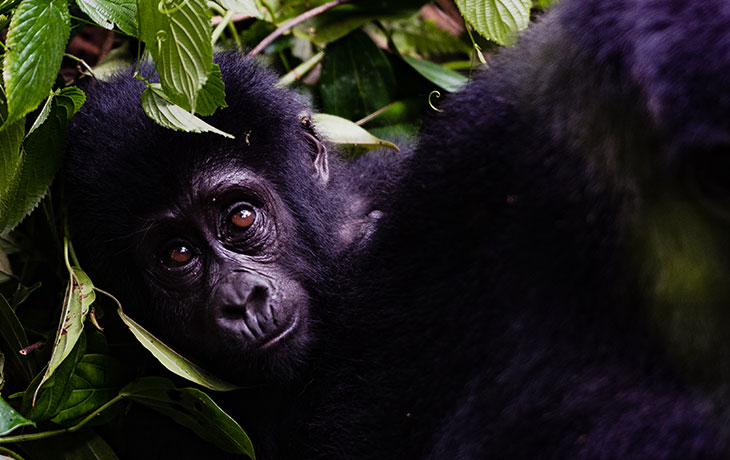 Mountain Gorilla tracking in Bwindi Impenetrable National Park
Price per person for numbers of people. (For 2 people, each pays $1,172 pp while staying in Budget lodge – in stock)
Budget lodge
2 – $1,172 pp
3 – $1,122 pp
4 – $1,035 pp
5 – $1,030 pp
6 – $1,010 pp
7 – $1,000 pp
8 – $940 pp
9 – $940 pp
Highlights for 3-days Gorilla Tracking safari in Bwindi Forest
An hour or whole day interaction with Mountain Gorilla
One Gorilla Tracking Permit
Viewing of the Magnificent greenery
Tracking different Gorilla family groups
Guided walk in Bwindi Village
Stopover at Uganda Equator
Services of an English-speaking driver/guide
Batwa cultural tour
Ground transport per 4WD safari vehicle
Airport transfers
Detailed itinerary for 3-days Gorilla Tracking Bwindi
Day 1: Travel from Kampala / Entebbe to Bwindi Forest National Park
You are picked up from the hotel/place of residence at exactly 6:30 am after your breakfast so as to avoid the early morning traffic jam in Kampala. The trip starts ' traveling southwestwards through the districts of Wakiso, Mpigi, and Masaka while viewing the local livelihoods of the communities in the central region of Uganda. Then connect to Mbarara where you make a stopover for lunch at Agip Motel / Igongo Cultural Center.
After lunch proceeds to Bwindi Forest through the districts of Bushenyi' through the southern section of Queen Elizabeth National Park and if lucky you may see the Tree Climbing Lions and other big fives such as Elephants and Buffaloes. Continue with views of the magnificent scenery and the rolling hills of Kigezi and finally' Kanungu district connecting to Buhoma which is part of the Bwindi Forest. Arriving in Bwindi at around 5:30 pm for check-in at your reserved lodge. Dinner and overnight.
Accommodation Options
Up Market: Buhoma Lodge/Gorilla Forest Camp
Mid-range: Silverback Lodge/Gorilla Mist Lodge
Budget: Buhoma Rest Camp
Meal plan: Full Board (Breakfast, Lunch and Dinner)
Day 2: Gorilla Trekking in Bwindi Impenetrable Forest National Park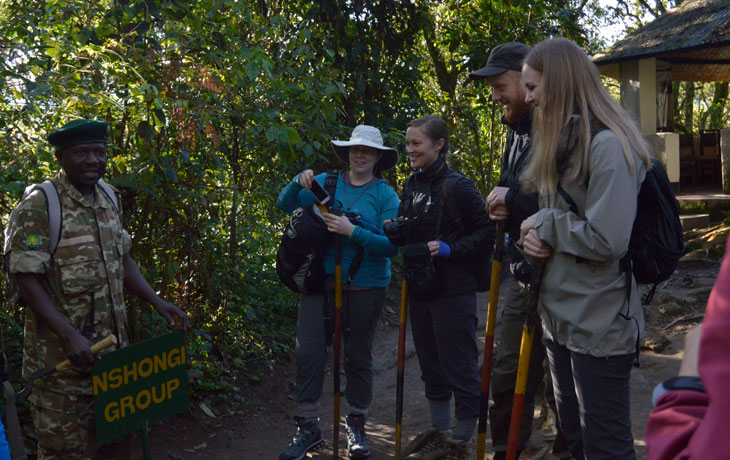 Briefing client before heading out for Gorilla Tracking in Bwindi

Wake up very early in the morning, at 6:00 am for breakfast and then proceed to the Mountain Gorilla trekking briefing point, to be briefed about the safety guidelines and be allocated guides and groups for tracking Gorillas. Setting off is at exactly 8:00 am' the ranger guides make sure everyone has packed lunch, enough drinking water' comfortable safe shoes and a porter (if needed) to help you carry your backpack so you can comfortably enjoy your Gorilla trekking experience.
Observing and photographing the gentle giants (Mountain gorillas) is so breathtaking! You are literally looking at creatures so human in every form! Be prepared as Trekking of the Mountain Gorillas may take 1 hr to a full day depending on where your gorilla family group may be at. After tracking Gorillas' return to the lodge and have a relaxed evening or a walk to the pygmy families on the outskirts of the forest. Have dinner and overnight at the lodge.
Accommodation Options
Up Market: Buhoma Lodge/Gorilla Forest Camp
Mid-range: Silverback Lodge/Gorilla Mist Lodge
Budget: Buhoma Rest Camp
Meal plan: Full Board (Breakfast, Lunch and Dinner)
Day 3: Travel back from Bwindi Impenetrable Forest National Park to Kampala / Entebbe
Have breakfast and thereafter embark on the journey back to Kampala / Entebbe. Lunch en‐route at Agip Motel/Igongo Cultural Center. Then a second stopover at the Uganda Equator for souvenirs and to view a few facts about the equator. You will then proceed to Kampala or drop off at the airport for the return flight back home. (Dinner with office tour manager before boarding return flight). Meal plan: Half Board (Breakfast and Lunch).
Gorilla Tracking Safari in Bwindi Forest includes:
Airport transfers Pick up and drop off at your hotel in Kampala / Entebbe.
Gorilla Tracking Permit.
Cultural entertainment.
2 Nights' accommodation in the Bwindi Forest.
Park Ranger Fees.
Private 4×4 Safari Vehicle.
English-speaking driver/guide.
En-route lunch.
Pure bottled drinking water or Soda.
Gorilla Tracking Safari in Bwindi Forest excludes:
International flight.
Ugandan Visa.
Luxury drinks.
Laundry.
Gratitude to the local porter.
Personal Insurance.
Personal shopping bills and cigarettes.
Any other item not mentioned above.
A list of Bwindi Forest National Park Briefing Points for Mountain Gorilla Tracking in Uganda
What to bring – a checklist for 3-days Gorilla Trekking Safari in Uganda?
Solid Comfortable Walking shoes or Boots to walk in Bwindi Forest National Park.
Warm clothes for the night as this part of the country gets pretty cold.
A torch is necessary.
Insect repellant.
Rain gears and hat.
Binoculars.
Zooming Camera for photos.
what are other activities that can be done in Bwindi Impenetrable Forest National Park
Mountain Biking.
Bird Watching in the loveliest Rain Forest.
Nature Walking trails.