3 days Kibale Chimpanzee tracking Safari ( Chimpanzee trekking Uganda )
3-days Kibale Chimpanzee tracking/trekking in Kibale Forest National Park which harbors Uganda's biggest population of Chimpanzees and 12 other species of primates. Troops of these Chimpanzees have been habituated to the most thrilling Chimpanzee trekking and wildlife experience. After the Chimpanzee trekking, this tour also offers a nature walk in the nearby Bigodi Swamp Land which is rich in primates and birds.
Chimpanzee Trekking Experience in Kibale Forest National Park
Price per person for numbers of people. ( for 2 people, each pays $906 in stock)
Price per person
2 – $906 pp
3 – $804 pp
4 – $753 pp
5 – $722 pp
6 – $702 pp
7 – $702 pp
8 – $702 pp
9 – $702 pp
Highlights of 3 days Chimpanzee trekking in Kibale Uganda
Amazing Primate walk ( Chimpanzee Tracking in Kibale Forest National Park)
Cultural Heritage and Nature trail
Bird watching and Night nature walks
Day hikes and Nature walks
Chimpanzee habituation experience
Services of an English speaking driver/guide
2 nights accommodation
Daily meals
Airport Transfers
Detailed Itinerary for 3-days Chimpanzee Tracking Kibale Forest National Park
Day 1: Travel from Kampala to Kibale Forest with a Bigodi Swamp Nature Walk
With a pick up from one of our guides/drivers by 6:30 am, you will start the journey at exactly 7:00 am as you will be driving straight to Kibale National Park. Use the Northern route from Kampala City through Mubende and finally to Fort Portal. You will be having lunch here and then head to the National Park for your afternoon activity.
Be at Kanyanchu the starting point before 2:00 pm because that is the time you will be starting the Walk. The walk takes 2 to 3 hours and you will retire for the day. Hereafter you will head to the Accommodation we would have booked for you and check-in. You will relax as you wait for your dinner. Travel Time – Kampala to Fort Portal Town: 5 Hours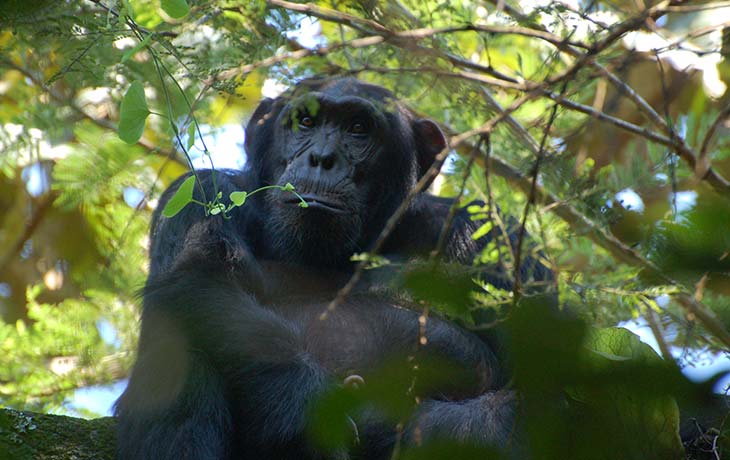 Chimpanzee Trekking Experience in Uganda
Accommodation options
Up Market: Primates Lodge
Mid-Range: Chimps Nest Safari Lodge
Luxury: Kyaninga Lodge
Meal Plan: Lunch and Dinner
Day 2: Chimpanzee Trekking Kibale National Park Safari
Have a break as you wait for a briefing from our guide yesterday before going to bed as today you will be waking up very early. You will be having an early breakfast with the parked launch as you are supposed to be at Kanyanchu 15 minutes before the activity starts. The Chimpanzee Habituation starts at exact 7:00 am because you will be following the chimpanzees from the moment they wake up to the time they prepare to sleep which is 7:00 pm.
That is why you must have your packed lunch as you do not leave the park up until the chimpanzees are ready to call it a day and this is usually done up to 7:00 pm, at latest 7:30 pm. This is also an amazing activity for bird watchers because Kibale forest is one of the National Parks that is blessed with a wide variety of different bird species. With that, you will drive back to your accommodation to take a long shower, have dinner and look back at the beautiful pictures you would have taken as the day would have ended.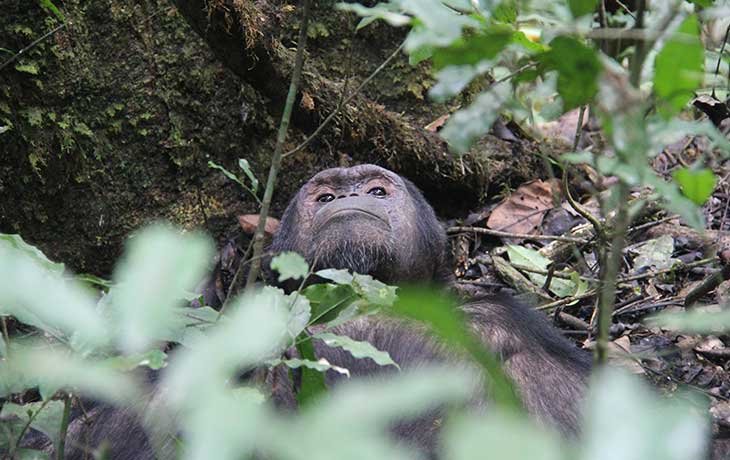 Chimpanzee Tracking in Kibale Forest National Park
Accommodation options
Up Market: Primates Lodge
Mid-Range: Chimps Nest Safari Lodge
Luxury: Kyaninga Lodge
Meal Plan: Lunch and Dinner
Day 3: Community Campsite at Nkuruba Nature Reserve and Back to Kampala
Have your breakfast as you prepare to finalize your three days safari, we shall some other beautiful scenery that you will only get when you visit Kibale Forest National Park. In the morning after you have had your breakfast and checked out of your hotel, you head to Lake Nkuruba Nature Reserve, Community Campsite Nkuruba is known for it amazing activities they conduct. You could decide on what you want to do when you get there. however, the activity you choose to take part in you will be back in time for your lunch and immediately after you are done with lunch you head out of the National Park. This shouldn't take so long as you will be on the other Kampala Mubende highway in no time. Travel time to Kampala: 5 Hours. Meal Plan: Breakfast and Lunch
What to Bring during your 3 days Kibale Chimpanzee trekking Safari Uganda
A rain jacket is essential as it could unpredictably rain
Light clothes as the sun does shine pretty bright in this part
Torch is essential for safety purposes
Sunglasses to protect from direct sun rays
A-Zoom lens Camera for photographs
A good insect repellent to keep those persistent insects away
Hiking boots or runners for the hike
3 days Chimpanzee Tracking Kibale Safari Uganda includes:
Airport transfers pick up and drop off
Accommodation and meals as per itinerary
En-route lunches
Chimpanzee trekking permit
Private 4×4 Safari Vehicle
English speaking driver/guide
Pure bottled drinking water or Soda
Driver Allowance
Bigodi walk
Visit stalagmites
3 Days Kibale Chimpanzee Tracking Safari Uganda excludes:
Airfares
Uganda Visas
Luxury drinks
Laundry
Tips to the local guide
Telephone fees
Porter fees when tracking
Personal insurance and shopping
Any other item not mentioned above