Nyungwe Forest National Park
Established in 2004, Nyungwe National Park entails quite high standards of a preserved rainforest in the mountains throughout central Africa. Located in southwestern Rwanda, in the watershed between the basin of the river Congo to the west and River Nile to the east. The nearest town is Cyangugu, 54 km to the west. Mount Bigugu is located within the park borders. The main activity of this park is chimpanzee tracking with an extensive network of well-maintained walking trails that.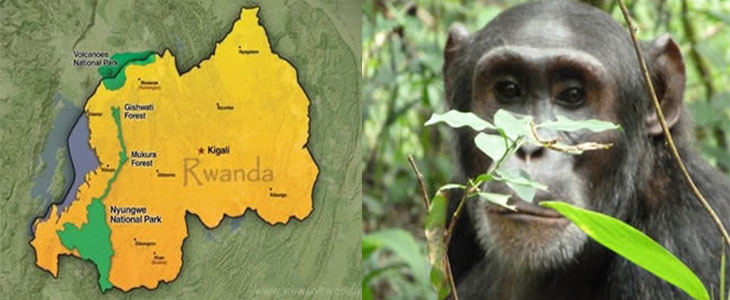 Wind through the forest to various waterfalls and viewing points of these creatures. A comfortably rustic rest house and perfectly situated campsite alongside the main road, and the reserve can readily be visited as a day trip from the towns of Butare and Cyangugu. Nyungwe does, however, deserve more time for anybody who wants to track chimpanzees and view different primate species and dedicated birdwatchers might never want to leave.
Nyungwe is most alluring for its primates: 13 species in total, including humankind's closest living relative the chimpanzee, as well as the handsome L'Hoest's monkey and the delightful acrobatic Angola Columbus. The most important ornithological site in Rwanda, Nyungwe harbors almost 300 bird species of which two dozen are restricted to a handful of montane forests on the Albertine Rift. The avian highlight of Nyungwe is the great blue Turacco – an outlandish blue, red and green bird which streams from tree to tree like a procession of streamlined psychedelic turkeys.
Species in Nyungwe national park
Nyungwe forest has a wide diversity of animal species, making it a priority for conservation in Africa. The forest is situated in a region where several large-scale bio-geographical zones meet and the variety of terrestrial biomes provide a great span of microhabitats for many different species of plants and animals. The park contains 13 different primate species (25% of Africa's total), 275 bird species, 1068 plant species, 85 mammal species, 32 amphibian and 38 reptile species.
Many of these animals are restricted-range species that are only found in the Albertine Rift Montane forests Eco-region in Africa. In fact, the number of endemic species found here is greater than in any other forest in the Albertine Rift Mountains that has been surveyed. The forest, which reaches its maximum altitude of 3000 meters above sea level, is of particular interest for the presence of colonies of chimpanzees (Pan troglodytes – Blumenbach, 1775) and Angola Columbus (Columbus angiogenesis – Sclater 1860), the latter now extinct in Angola for the intense hunt for which they were subjected.
Activities in Nyungwe national park
There are several activities that provide lifetime informative experience to clients which include: Chimpanzee trekking, bird watching, canopy walking and walking trails to different areas like the Uwinka and colored trail, Gisakura tea estate, Kamiranzovu and Bigugu trials.
Accessibility to Nyungwe national park
Nyungwe Forest National Park is located on the southern part of Lake Kivu and it also borders Burundi. The park is located 225Kms away from Kigali city via Butare town.
Accommodation
The park has up market and medium range accommodation which include the Nyungwe forest lodge, Gisakura guest house and Uwinka rest house and many more.