Scheduled group safaris in Uganda and Rwanda
Scheduled group safaris in Uganda and Rwanda are popular with a wide spectrum of visitors, but lone tourists who wish to split the cost of their African vacation are especially fond of them. Simba African Expeditions connects travelers with like-minded people over fantastic primates and wildlife encounters, allowing them to enjoy that golden hour in the open wide savanna and create long-lasting memories.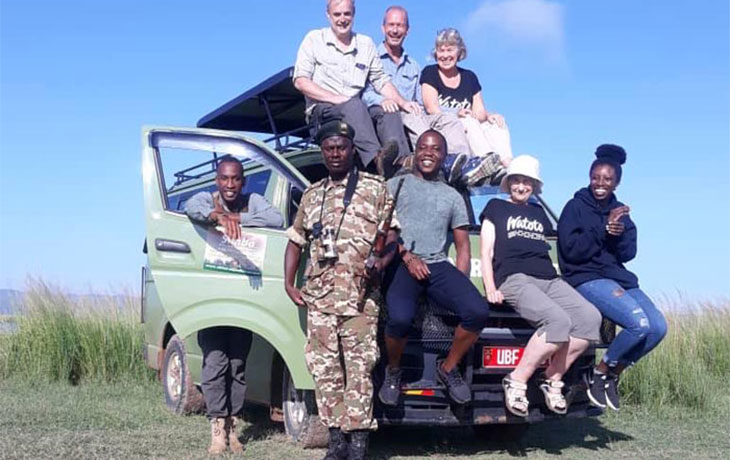 Families and mixed-generational groups traveling together are always advised to take one of these scheduled group tour holidays for 2–8 persons maximum per vehicle. Our inclusive package includes meals, transportation (a full-time 4WD custom safari car), and activities for the Booked trip, and the rest is left for the Simba African Expeditions team to let your imagination run wild.
Why book a scheduled group Uganda tour and Rwanda safari with Simba African Expeditions?
Such group safaris can also be tailor-made for private tours as an option for Uganda safaris and Rwanda tour excursions. Just ask our staff for assistance in creating a personalized, tailor-made, and unique trip. In addition, the team is readily available to assist you in planning a guided tour from beginning to end.
Since we have established ourselves as one of the top tour companies providing real and affordable gorilla trekking to the national parks of Volcanoes, Mgahinga Gorilla, and Bwindi Impenetrable Forest National Park, and in order to help you plan summer vacation safaris in Africa, we make an effort to provide reliable and timely information. Our staffs are always available to help you with all the arrangements.
Our scheduled group safaris with departures and special offers
To confirm your slot in our scheduled group tour, only an initial deposit of $100 is required; however, if the trip includes gorilla tracking, chimpanzee trekking, or volcano trekking, you will also be required to pay the trekking permit fee to ensure that we purchase your trekking permit on time.
What is included in a group tour package?
Transport in a 4×4 Safari vehicle.
All park entry fees.
Meals as per the itinerary.
Accommodation type (budget) for overstay night trips.
All the Activities as per the agreed upon.
Pure drinking water.
An experienced driver or guide.