1 Day Mabira forest Birding tour Uganda ( Mabira birding )
1-day Mabira forest birding tour to Mabira Forest Reserve will start off from Kampala after your morning breakfast from your pick up location. Mabira forest is an amazing birding site with over 300 species of birds, covering 306 square kilometres ‐ the largest in the central region of Uganda. It is located within easy reach of 56 km from Kampala, for a one-day forest birding experience. It is close to an hour's drive from Kampala.
Because it's a one-day birding safari which starts off from Kampala City early at 6:00 am to beat the menacing traffic jam, driving along the Kampala‐Jinja highway. There are plenty of birds along the highway so be on the lookout as you drive past gardens, trenches, bushes, woodlands, thickets, swamps, and towns.
Book Now
Mabira Forest Birding Experience
Highlights of Mabira forest Birding tour
A guided Nature walk in Mabira Forest
Amazing Bird Watching in Mabira forest
Travel in a customized 4WD safari Vehicle
Airport transfers
Visit Sezibwa Falls
Common sightings may include Long-crested Eagle, Open ‐ billed Stork, Cattle Egret, Marabou Stork, Pied Crow, Black Kite, Black‐headed Weaver, Hadada Ibis, Hamerkop, Lizard Buzzard, African Thrush, White‐threatened Bee‐eater, Broad‐billed Roller, Bronze Manikin, Palm Nut Vulture, Great Blue Turaco, Red‐chested Sunbird, and so many others. You could count over 50 bird species before arriving at Mabira Forest.
1-day Mabira Forest birding Safari Starts with:
Getting to Mabira Forest Reserve, turning off the highway at Najjembe to get to the Mabira Eco-tourism Site, situated 300 m into the forest. You will be blessed to see different bird species. After clearance at the Ecotourism Site, take to the trail network, observing the undergrowth, mid‐forest and the canopies for lots of species.
Mabira Forest Bird Watching

Your bird list may include Forest Wood Hoopoe, Yellow White-eye, Hairy Breasted Barbet, Blockages Shrike, Tambourine Dove, Red-bellied Paradise Flycatcher, African Harrier Hawk, Speckled Tinkerbird, Great Blue Turaco, Black and white Mannikin, Chestnut Wattle‐eye, Superb Sunbird, African Grey Parrot, Jameson's Wattle‐eye, African Shrike‐Flycatcher, Red‐headed Malimbe, Velvet-mantled Durango, Black-billed Turaco and so many more. You could count over 30 species in 3 hours.
Nearby birding sites you might consider after birding Mabira include the Sezibwa Falls and Kasenge Forest Reserve. These may share so many species, however, some birds may be easier to spot here than in Mabira, it being a really thick forest. You will return to Kampala after your birding experience and transfer to your hotel/airport.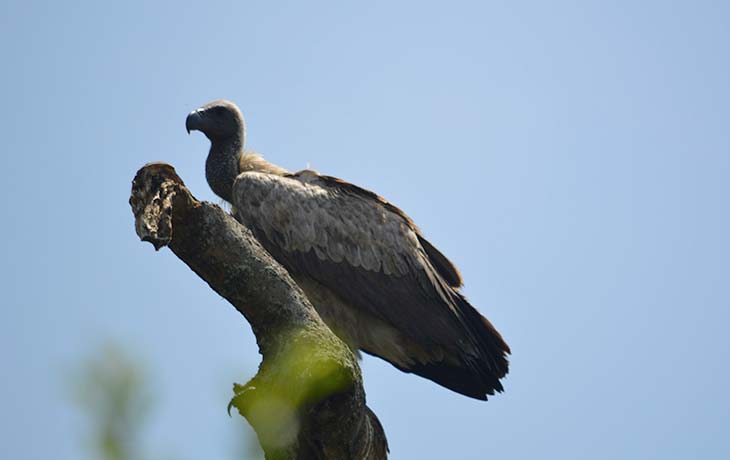 Vulture in Mabira Forest
What to do during this 1 day Uganda birding Tour
A Forest walks Day and Night
Speciality bird watching
Mountain biking
Environmental Education (Study Tours)
camping
sightseeing
picnic trail
grass trail
1-day Mabira Birding Safari Includes:
Transportation by safari vehicle
En-route lunch
Entrance fees
Driver allowances
Driver guide
Bottled drinking water
1-day Mabira birding Safari Excludes:
Airfare
Ugandan Visa
Luxury drinks
Laundry
Gratitude to the local porter
Personal insurance
Personal shopping bills and cigarettes
Any other item not mentioned above