1 Day Sipi Falls tour in Uganda (Sipi Falls hiking safari)
1-day Sipi Falls tour to a set of three waterfalls situated along the foothills of Mountain Elgon in Kapchorwa District. They are Uganda's most beautiful waterfalls and the prime tourist attraction of Eastern Uganda. They offer an exciting hiking adventure along the base of Mountain Elgon, which includes visiting all the three waterfalls, enjoying the magnificent views of the Mountains and the distant plains of the Karamojong in Karamoja, and going through the local communities of the Sabie people, and their coffee farmlands.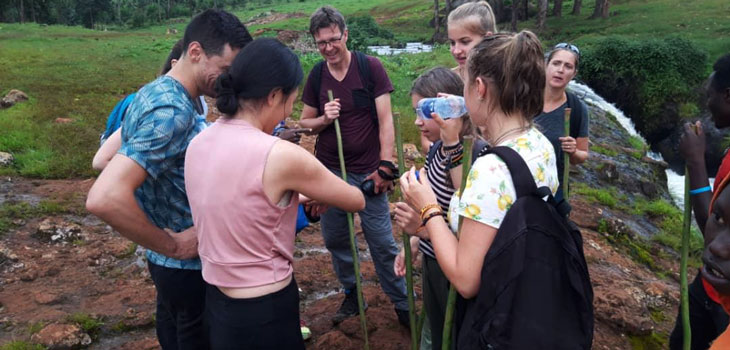 Price per person for numbers of people. (For 2 people, each pays $170 in stock)
Price per person
2 – $170 pp
3 – $160 pp
4 – $140 pp
5 – $135 pp
6 – $130 pp
7 – $125 pp
8 – $125 pp
9 – $125 pp
Highlights for Sipi Falls hiking in Uganda.
Hiking and nature walk trail.
Visiting 3 sets of waterfalls
Sightseeing of Karamoja plains and Mountain Elgon with Lake Kyoga
Rock climbing
Airport Transfers
A 1-day Sipi Falls tour in Uganda itinerary would be as follows:
Have an early cup of coffee or tea and prepare for pick-up from your hotel in Kampala by 6:00 am. This is early enough to beat the menacing morning traffic jam of Kampala. You travel eastwards on the Kampala ‐ Jinja highway via Iganga through Mbale and head for Sipi, a 6-hour journey. Upon arrival and after a brief relaxation, you get a local guide to lead the hike, starting with the top‐most waterfall, and descending down to the bottom waterfall which is also the main Sipi waterfall. The waterfalls measure 85 m, 75 m and 100 m respectively.
The entire hike will take close to 4 hours or less depending on the level of fitness of the adventure hikers. However, given that you are descending for most of the hike, even first-time hikers can complete it within 4 hours. Alternatively, you can choose to leave out one of the waterfalls when you feel the fatigue is unbearable. The hikes leading us to either of the waterfalls take us through the Arabica coffee plantations. After the hike, transfer to one of the accommodations overlooking the main waterfalls for lunch. Thereafter embark on the return trip to Kampala city, arriving late evening.
Sipi hiking tour in Uganda includes:
Airport transfers pick up and drop off.
Transport in a private car.
Driver guide.
En-route lunch.
Hiking guide fee.
Entrance fee.
Pure Bottled drinking water.
All activities mentioned in the itinerary.
Sipi hiking tour in Uganda excludes:
Airfares.
Uganda Visa.
Luxury drinks.
Laundry.
Tips to the local guide.
Telephone fees.
Porter fees when tracking.
Personal insurance and shopping.
Any other item not mentioned above.
What is the distance from Kampala to Sipi Falls?
The distance from Kampala to Sipi falls is 235 kilometers, which will take you about six to seven hours drive.
What are the tourist activities one can do while at Sipi Falls?
Hiking and Nature walk trail.
Abseiling 100 meters down the Sipi falls.
Rock Climbing.
Coffee Tours.
Bird watching.
Cultural visits to nearby villages.
Mountain Biking.
What to pack for your Sipi Falls tour?
Sunglasses.
Light Clothes.
A good zooming lens camera for photos.
Raincoat.
Some of the accommodations around Sipi falls include.
Sipi River lodge.
Lacam Lodge.
Moses Camp.