4 Day Murchison Falls, Chimpanzee trekking & Rhino tracking
4-day Murchison Falls, Chimpanzee and Wildlife Safari will lead you on an adventurous journey to the greatest falls and man's closest as well as the most endangered animal species in Uganda. The park has spectacular and beautiful falls and definitely nature's truest gift to Uganda. The Park has 75 different species of mammals and 420 birds. No doubt, making it the number one stop over National Park in Uganda offering a variety of activities. This itinerary will combine it with Chimpanzee tracking in Budongo forest and the rare Rhino tracking at Ziwa rhino sanctuary just outside the park.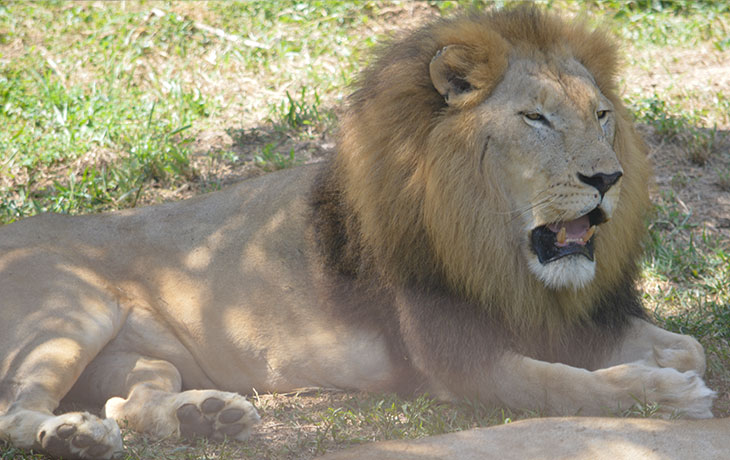 Lion in Murchison Fall National Park
Highlights for 4-day Murchison Falls, Chimpanzee tracking with Rhino Tracking
Exciting Boat cruise on the Victoria Nile to Murchison Falls.
Bird watching during launch cruise and game drives.
Hiking and nature walk trails.
Chimpanzee tracking in Budongo Forest.
Services of an English – speaking driver/guide.
Unforgettable Game viewing in Murchison Falls National Park.
Exceptional Rhino tracking in the Ziwa Rhino Sanctuary.
Travel in a customized 4WD safari Vehicle.
3 Night Accommodation.
All Meals during the entire Safari.
Airport transfers.
Detailed itinerary for 4-days Murchison Falls, Chimpanzee tracking with Rhino Tracking
Day 1: Travel from Kampala / Entebbe to Ziwa Rhino sanctuary
Pick up from your hotel by our Driver/Guide at 6:00 am and start the journey by 6:15 am. The drive will take not more than 4 hours as you will drive direct to Ziwa Rhino sanctuary for your exclusive Rhino tracking experience and then proceed to the National Park check into the lodge, have your lunch, relax and then proceed for your evening nature walk. Return to the lodge for dinner and overnight.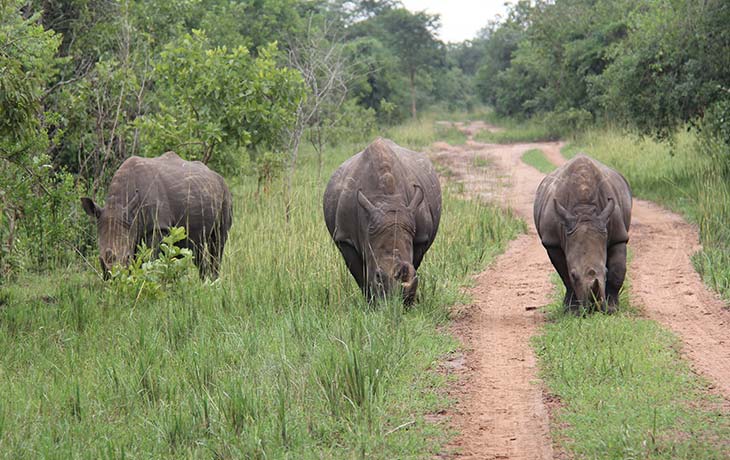 Rhino Tracking at Ziwa Rhino Sanctuary
Day 2: Chimpanzee tracking Budongo forest – transfer to Fort Murchison
Wake up as early as 6:30 am for breakfast and after proceeding to the chimpanzee tracking starting point for briefing. The park ranger will brief you about the activity and some chimpanzee trekking tips before you set off into the forest for the Chimpanzee trekking experience. Budongo forest is a habitat for more than 13 primate species, some of which include, the black and white colobus monkeys, red colobus monkeys, and vervet monkeys, among others. Return to the lodge for your delicious lunch, then check out, cross the ferry and go for an evening game drive. Thereafter, check in to the lodge for dinner and overnight.
Day 3: Morning game drive and afternoon boat cruise
Wake up very early for a quick coffee at 6:00 am, and then proceed for the game drive at 6:30 am. This is the best time to go for game drives because you have higher chances of seeing one of the big fives the Lions, they are habitats in the national park, and you will most definitely see the Giraffes, the elephants, among others.
Back from the game drive, have a luxurious full breakfast and then relax by the swimming pool until lunch, after lunch proceeds to the boat Cruise trip to the bottom of the falls where you will see humongous hippos, different bird species, some of the 76 species of mammals that are found in this national park. The boat Cruise trip usually takes up to 3-hours, this Cruise will be concluded with a hike to the top of the falls. After the boat cruise, you will drive back to the lodge for dinner and overnight.
Game drive in Murchison Falls National Park
Day 4: Game drive and travel back to Entebbe
You will be having an early game drive but this time, you will have your breakfast first, check out of the lodges and get on your way out of the National Park. You will just be driving through but as I said, it is always a different experience every time you have a game drive or simply driving through the park. You will check out of the park using the Wankwar Gate to leave the National Park and towards the end of the park, you will meet the Karuma Falls, proceed to Kabalega diners for lunch and then you will head back to Kampala with a drop-off to your hotel or airport for a late evening flight out.
Things to bring for 4-day Murchison Falls, Chimpanzee tracking with Rhino Tracking
A rain jacket is essential as it could unpredictably rain.
Light clothes as the sun does shine pretty bright in this part.
Torch is essential for safety purposes.
Sunglasses to protect from direct sun rays.
A Camera for photographs.
A good insect repellent to keep those persistent insects away.
Hiking boots or runners for the hike.
4-days Murchison Falls, Chimpanzee with Rhino Tracking includes:
Airport transfers Pick up and drop off at your hotel in Kampala / Entebbe.
Chimpanzee Tracking Permit.
3 Nights' accommodation.
Park Ranger Fees.
Private 4X4 Safari Vehicle.
English-speaking driver/guide.
En-route lunch.
Pure bottled drinking water or Soda.
However, Murchison Falls, chimpanzee with Rhino Tracking excludes:
Airfare.
Ugandan Visa.
Luxury drinks.
Laundry.
Gratitude to the local porter.
Personal insurance.
Personal shopping bills and cigarettes.
Any other item not mentioned above.