Murchison falls Safaris ( Murchison falls National Park )
Murchison falls Safaris in Uganda, Murchison falls is Uganda's oldest and largest National Park gazetted in 1952. Located in northwestern region of the Albertine rift valley around Victoria Nile. Situated in the districts of Buliisa, Nwoya, Kiryandongo and Masindi (the nearest large town). It's about 283 km by road northwest Kampala Uganda's capital and largest city. The Park well known for its strongest falls and covers an area of 5,025 square kilometers the area is traversed by the Victoria Nile connecting Lake Kyoga with Lake Albert.
It is a home of wild animals including the big five elephants, lions, Cape buffaloes, leopards and Rhinos (kept at Ziwa Rhino sanctuary) other animals include giraffes, hyenas, Uganda kobs, waterbuck, warthogs, Oribis, bush buck jackal and many others. The park is also a home of over 450 bird species.
Book Now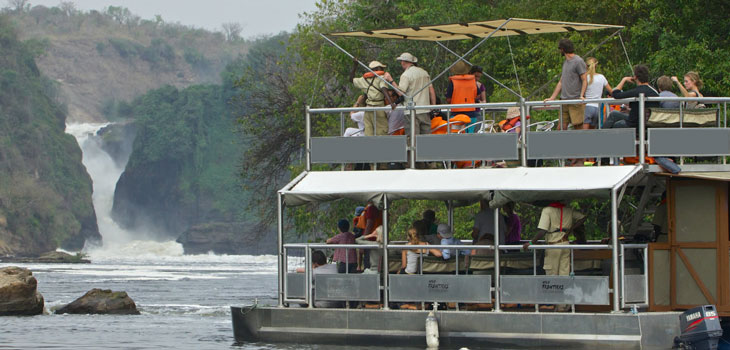 Boat cruise on Murchison falls
Murchison falls Safaris activities that can be done include;
Boat rides to the bottom of the falls and hike to the top of the falls
This activity is enjoyed in the afternoon along the Victoria Nile to the base of Murchison falls, which offer a beautiful sighting of wildlife like crocodiles, hippos, elephants, buffaloes, and lots of water birds. After the boat ride you can opt to hike on top of the falls.
Game drive in Murchison falls national park
Game viewing is enjoyed while on a game drive in designated game drive areas like delta where there are great chances of seeing Lions, elephants, buffaloes, giraffes, hyenas, Uganda kobs, waterbuck, warthogs, Oribis, bush buck and jackal. In order to enjoy this game drive a well-trained driver guide is highly recommended.
Spot fishing
To carry out spot fishing in Murchison falls one must secure a permit from UWA. Fishing is permitted in designated sites; spots fishing are most enjoyed at the banks if the Nile below Murchison falls.
Bird watching
Best sighting of birds' takes place during game drive and launch trips. The park's main birding attraction is the shoebill best sighted in the dry season from January to March. Other birds include; savanna forest birds, water birds, Albertine rift endemics, marabou stock, secretary birds, window bird and many others.
Accessibility to Murchison falls National Park
Murchison Falls national park with the adjoining Karuma and Bugungu Wildlife Reserves can be accessed through different routes that will lead to the Paraa Park headquarters. It can also be reached by air using the daily flights from Entebbe International Airport or chartered aircrafts from Kajjansi airfield to Pakuba airfield, 19 km Northwest of Paraa and south at Bugungu, 13 km from the park headquarters.
The most commonly used route is Kampala via Masindi town to Kichumbanyobo Gate, which is about 300 km long and takes an average of 4.5 hours. This route is currently considered the shortest and most convenient with 175 km on a good road 125km of the journey on fine Murram road. This route takes you through Kaniyo Pabidi Forest before encountering the rift valley escarpment that offers a spectacular view of Murchison falls landscape.
Murchison falls Safaris Accommodation facilities
Luxury : Paraa safari lodge
Midrange : Pakuba safari lodge
Budget : Heritage safari lodge
---
Other related Murchison falls Safaris