Uganda Safaris National Parks
Uganda Safaris National Parks, there are 10 National Parks Destinations In Uganda Which include; Bwindi impenetrable forest, Lake Mburo, Queen Elizabeth, Murchison falls, Kidepo valley, Semliki, Mount Elgon, Mountain Rwenzori and much more;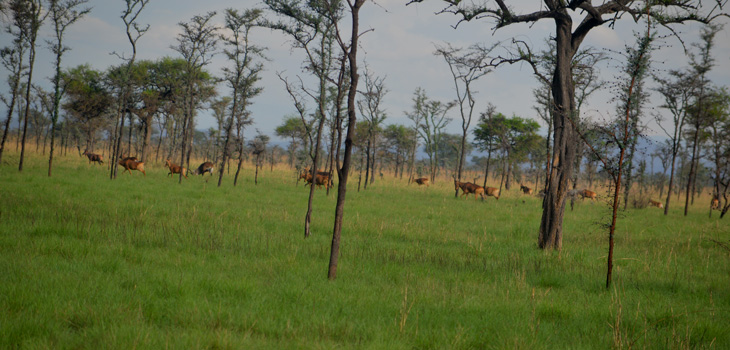 Bwindi Impenetrable Forest National Park, a size of 331 km2, is located in South Western Uganda on the edge of the Albertine Rift Valley, in an altitude range from 1,160 m to 2,607 m. This is a real tropical rainforest, spread over a series of steep ridges and valleys. It is regarded as one of the most biologically diverse forests in Africa, gazetted in 1991 and was first available for tourism in 1993.
Murchison Falls National Park covers an area of 3840 km2 and is the largest national park and with the other reserves like Karuma and Bugungu and Budongo, it covers an area of 5,025 km2. The altitude range from 619 m at the delta on Lake Albert and 1,292 m at Rabongo hill. The area is traversed by the river Victoria Nile, which connects Lake Kyoga with Lake Albert and was gazetted in 1952 making it Uganda's oldest National Park.
Lake Mburo National Park Also known as the home of Zebras is located between Masaka and Mbarara in the Albertine rift connecting you to other two national parks in the western region which are Bwindi Impenetrable National Park and Queen Elizabeth National Park. The park is 228 km from Kampala which makes it an ideal stop for most visitors. It was first gazetted in 1993
Queen Elizabeth National park covers 2.056 kms of land; it is located in South of the Rwenzori Mountains, bordering Congo and including two lakes, George and Edward, connected by the famous Kazinga Channel, which supports the experiential boat cruise. It is an ecosystem made of wetland and open savannah areas, on an altitude of 910m at Lake Edward.
Semliki National Park covers 220 km2, along the Congolese border following the Semliki River, within the Western arm of the Albertine Rift Valley, in the North of Rwenzori Mountains. The altitude is on the average 700 m above sea level. This park is now the number one birding destination in Uganda with over 441 bird species. It was gazetted in 1932 and established in 1993.
Mount Elgon National Park is the oldest extinct volcanic mountain with the largest volcanic base in the world of 4000 km2. This mountain is shared with Uganda and Kenya and Uganda takes the largest area coverage of 1,121 km2 and Kenya 169 km2 , the Kenyan part of this park was gazetted in 1968 and the Ugandan part in 1992. The highest peak is Wagagai, 4,321m.The local people, Bagisu used to call this mountain, "mount "Masaba", while "Elgon" is named after the Anglicization of the Masai "El Kony".
Rwenzori Mountains National Park, a 1994 heritage site covers an area of 996 km2 which stretches 120 km along the Congo border. It is a block mountain formed as a result of faulting. The Rwenzori Mountains is the third highest in Africa, with six glacial peaks: Stanley, Mount Speke, Mount Emin Pasha, Mount Gessi, Mount Luigi da Savoia and Mount Baker.
Kibale Forest National Park ( Kibale National Park ) protects one of the loveliest and most varied tracts of tropical forests in Uganda on an area of 795 km2. Established in 1993, Kibale is home to a host of forest wildlife and 13 primate species, among which include man's closest relative, the chimpanzees. The forest is predominantly covered by thick canopies in the northern and central parts of the park on the elevated Fort Portal plateau. Kibale is highest at the park's northern tip which stands 1590 m above sea level. Northern Kibale is also the wettest area covered in swamps and receiving a mean annual rainfall of up to 1700 mm, mostly during March -May and September – November. The climate is generally pleasant with a mean annual temperature range of 14 -270 C.
Kidepo Valley National Park is a covering of an area of 1,442 km2, Uganda's most spectacular wilderness, Kidepo valley national park. Gazetted in 1962, same year Uganda got its independence, it is the most authentic of the African wildernesses in Uganda and probably the least visited parks due to the long haul journey of travel. Kidepo valley is located in the North-Eastern part of Uganda bordering Sudan and Kenya, in the Karamoja region. It lies at an altitude range between 914 m and 2,750 m above sea level. This consideration, combined with the valley's open, savanna habitat, makes it the park's prime game viewing location.