June 22nd, 2023
Mountain hiking experience is the activity of going for a long walk, especially across the country, through nature's marked trails for pleasure and fun. This hiking experience can be done in different areas or anywhere, and you do not need hike experience in order to take part in it. However, it helps for health reasons like mental, exercise, fun, and fitness. The average age for hiking activity is between 13 and 70 years of age.
Where to do mountain hiking experience in Uganda.
Mountain Rwenzori National Park: located in western Uganda in Bundibugyo district; however, it was founded by Stanley, who named it the mountain of the moon since its peak is covered by snow and its above sea level. Mountain Rwenzori National Park has one of the hardest or most difficult trails for those who want to reach the Margherita peak. However, Rwenzori has two hiking trail areas that you can use to hike up the mountain; they include the central circuit and the southern circuit or trail, which takes about 7-8 days to reach the peak at Margherita. Mountain Rwenzori has different camps at each stage or points that include Nyabitaba, Bujuku, John Matte, Elena, Kitandara, and Guy Yeoman. While hiking up the mountain, you can spot different wild animals like the black and white colobus monkey, the three-horned chameleon, and the L'hoest monkey.
Mountain Mgahinga: located in south-western Uganda and covers about 33.7 km2. It is Uganda's oldest park and is known for gorilla trekking and golden monkeys. However, it's one of the smallest or shortest hikes one can do, and it's worth taking part in.
Sabinyo gorge hiking: This trail takes about 6 hours to hike. The Sabinyo Gorge hike goes through the forest and waterfalls, which gives a beautiful view and enables tourists to take pictures. However, it is a good sport for birding and wildlife.
Gisozi hill: It's a 1-hour walk to the hill that goes through to the information center; it's located in Bunagana town near Kisoro. While on this trail, you can see Lake Mutanda and its beauty across the hill.
Boader hike: this trail starts at the slopes of Mount Sabinyo and ends at the border of Congo, which is about a 5-hour walk to reach the final destination. However, it has camps where campers can rest after a long day. On this trail, you can spot golden monkeys.
Batwa nature walk: this trail is done with a guided ranger, but followed by the Batwa guide, who helps tourists walk through the forest and show them how they lived their lives with the giants. However, they have a stopover at the cave known as Garama, where they used to go and make scarifications to their gods. They are known to be short and hot-tempered people who still live in the stone age way of life.
Mountain Elgon: located in Mbale district. Its main attraction is the hike to the top of the mountain, which is one of the smallest mountain areas in Uganda and overlooks Sipi Falls.
Sipi trail: Starts in Kapkwai in Kapchorwa, which lies outside the park. It is under the guidance of local guides who help tourists explore the magnificent falls; however, it has a beautiful view of flora and fauna.
Suam tail: It's the long trail that is barely used in Mount Elgon; however, it starts in Suam Trading Center on the Uganda and Kenya border and takes about 4–5 days to complete to the peak.
Piswa trail: it starts at a higher level to the peak that goes through the hot springs in the park, and each point has a refreshing area for water and some tent accommodation in case you're exhausted.
Sasa trail starts in Budadiri town, which is more direct to Wagagai Peak, but this is the most commonly used trail.
Bwindi Impenetrable Forest National Park: located in south-western Uganda, in Kisoro district. Bwindi Impenetrable Forest National Park is well known for the gorillas that inhabit the thick forest. It had different trails that enabled travelers to trace through the forest, like the
Bwindi Impenetrable Forest National Park Mountain hiking trails.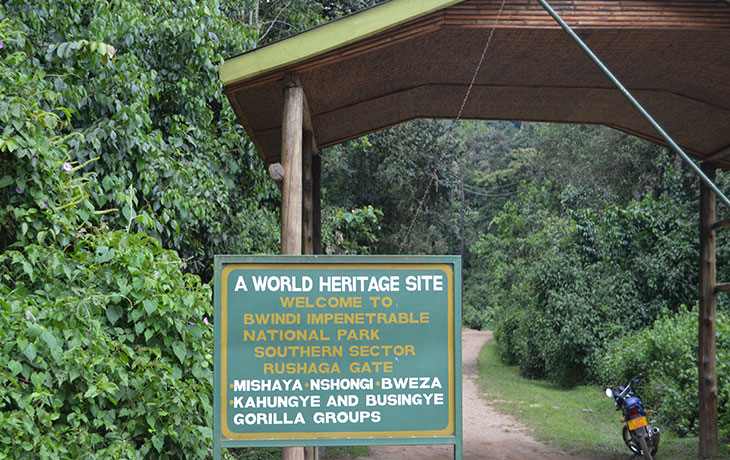 Ivy trail: This walk starts in Nkuringo and ends in Buhoma Head Quarter. It takes about 7 hours to hike in the forest, where you can spot monkeys, ducks, birds, butterflies, and many other species.
Ashasha trail: A 13-kilometer walk that goes through the forest. It starts from Nkuringo and goes through steep areas. This route goes through two rivers into the forest to spot birds, monkeys, and some aquatic animals.
Batwa trail: This trail leads to the Batwa community, which costs $40 per person to experience with them in the forest. However, it is led by the Batwa guide, who shows you how the Batwa people used to live to co-exist with the animals in the forest.
Munyanga River trail: A 1-hour walk that starts and ends on Buhoma Road; this enables basically birders to spot different bird species.
Muzabajiro loop trail: about 4 hours walk to Rukumara Hill. The trail is located in Bwindi.
Habinyanya/Raleigh trail: About 6-7 hours of walking through the Muyanga River of Habigorogoro and Riyoyi Ridges that overlook the Buhoma River.
Mabira Forest: The forest is located in Buikwe District, between Lugazi and Jinja. This reserve was gazette in 1932 in that it has different hiking trails according to the fitness of the tourist.
The hiking trail can go through well-maintained areas.
Things to pack hiking experience in Uganda.
Light clothing's
Insect repellent
Food or snack
Water for dehydration
First aid kit
Fire-starting object
Pocketknife
Backpack
Compass