Chimpanzee tracking and habituation experience Kibale
Chimpanzee tracking and habituation experience are the most popular activities done in Kibale Forest National Park which is located in the western part of Uganda southeast of fort portal town. So, while tracking, one can never miss out on seeing the chimpanzee, you can also spend the whole day with a chimpanzee group in what is called; chimpanzee habituation experience which can be done early morning to late in the afternoon.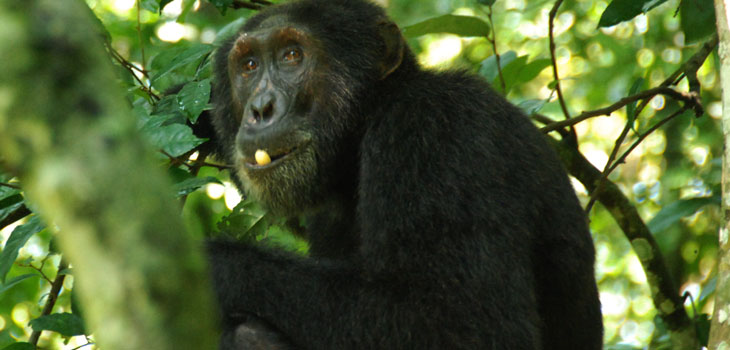 Chimpanzee tracking & Habituation Experience Kibale
Access to Kibale Forest National Park for chimpanzee tracking and habituation
The Park can be accessed by road from the north of Kampala, either via Mubende and fort portal or south, Mbarara and Kamwenge though the northern part is shorter and quicker.
Other activities other than chimpanzee tracking and habituation done in Kibale Forest National Park.
Bigodi wetlands sanctuary
It is always amazing to have a nature walk in Bigodi swamp especially in the afternoon where one spots a number of birds, flora and more chimpanzees. It's 3 hours walk but worthy experiencing adventure.
Bird watching Safari
Bird watching is mainly done at Kanyachu, starts at 7:00 am. Birds in the park includes; papyrus canary, white-winged warbler, white-collared pliveback, papyrus Gonolek. Other bird species in Bigodi wetland sanctuary including white-spotted flufftail, yellow-billed barbet, superb sunbird to mention but a few.
Hiking and nature walks
Hiking and guided nature walk in and around the park, which is a half day hike during the dry season of 12 km in length where you can spot plenty of wildlife, tropical rain forest, swamps, grassland and many other creatures.
Best time to visit Kibale Forest National Park
Kibale Forest National Park is open for game viewing throughout the year. The best time is in the dry season from June to August as well as December to February that's when chimpanzee trekking is easier and birding is best done in the wet season either the Month of March to May or September to November.