Gorilla Family Groups Bwindi (Gorilla tracking Uganda)
Bwindi Forest National Park's Gorilla Family Groups, Uganda is blessed with over 400 mountain gorillas living in the beautiful Bwindi Impenetrable Forests and is home to more than half of the world's total population of mountain gorillas. The other number of Mountain Gorillas live on the lower slopes of the volcanoes in Mgahinga Gorilla National Park. At the moment, Uganda has about eleven habituated gorilla families for visiting and one group obtainable for research. They include Mubare, Habinyanja, Bitukura, Oruzogo, Nkuringo, Nshongi, Mishaya, Kahungye, Bweza, Busingye, Nyakagezi, and the research group Kyaguriro. Let's look at these groups in detail and learn a little bit more about them.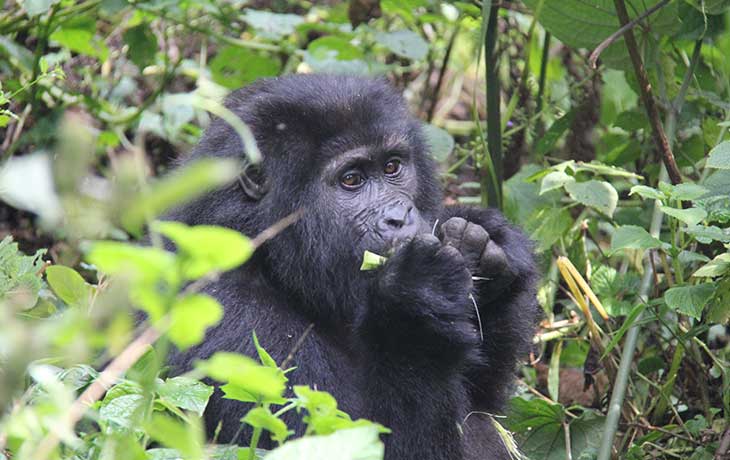 Mubare Gorilla family
Site: Buhoma
Group size: 8 individuals with 1 silver-back
As the Mubare gorilla group is the oldest and the first habituated gorilla family in Uganda, which opened up the start of Gorilla tracking. "Mubare", the name was derived from Mubare Hill, found deep in Bwindi Impenetrable Forest. This is where the gorillas were first sighted by trackers. The group consisted of 18 individuals before and was led by the dominant Silver-back Ruhondeza. But over the years the family lost many members until there were only 5 left in 2012.
This was due to Members moving to other groups, life losses during fights, and the death of babies. During your Gorilla tracking, you get to ask all the stories about these beautiful creatures. At the moment, the Silverback is Kanyonyi who has managed to expand the family again and increased it to nine members currently.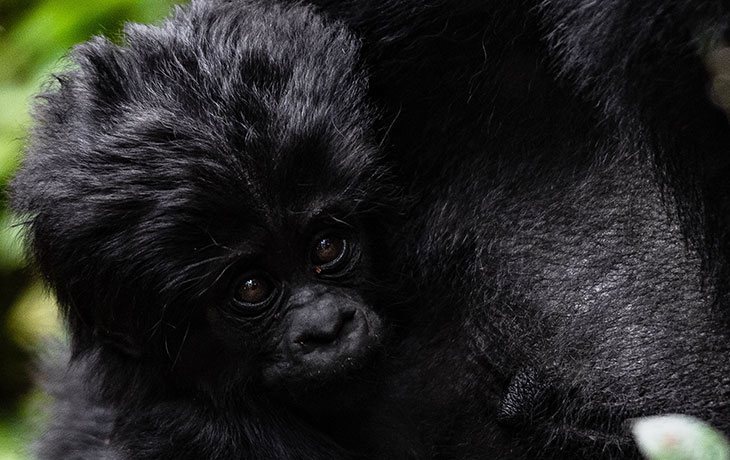 Habinyanja Gorilla Family groups
Site: Buhoma (ranging from Kahororo to Rubona)
Group size: 17 individuals with 2 silverbacks
The Habinyanja family was habituated in 1997 and had their first visitors in 1999. The name; "Habinyanja" comes from the Rukiga word "Nyanja" meaning "a place with water". This name came about because the group was first seen near a swamp in Bwindi Impenetrable Forest National Park and everything just came to place. Before and after the habituation, the group was led by the dominant Silver-back Mugurisi; which means "Old man". They later passed away due to old age; his two brothers Rwansigazi and Mwirima could not lead the group together.
Rwansigazi was an adventurous gorilla and liked traveling, while Mwirima preferred to stay at a small range. It was therefore inevitable that in 2002 the two silverbacks decided to separate, without any fights. The group that followed Rwansigazi maintained the name Habinyanja and the members who stayed with Mwirima came to be known as the Rushegura family. Sometimes, both groups still come across each other and can co-exist peacefully.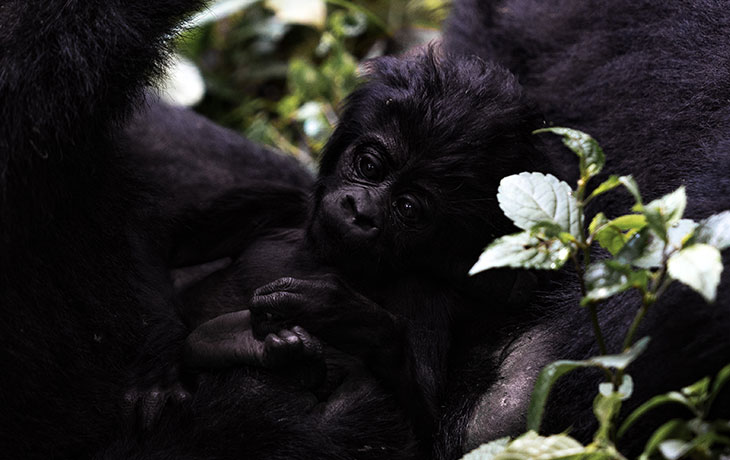 Rushegura Gorilla Family groups
Site: Buhoma
Group size: 19 individuals with 1 silver-back
Rushegura is the name of a place where this group separated from the larger family of Habinyanja in February 2002. This new family led by Mwirima took with him 12 members including 5 females. The family had increased to 19 family members by April 2012. Miriam is without question the most dominant silver-back in his group and does not back away from a fight with wild Gorilla groups.
His family is one of the few that used to cross to the neighboring Democratic Republic of Congo but came back and now enjoy the peaceful environments of Bwindi National Park. This is also one of the calmest families so do not be surprised when you see them wandering around the lodge gardens or visiting the souvenir shop of Gorilla Forest Camp as they are very curious as well.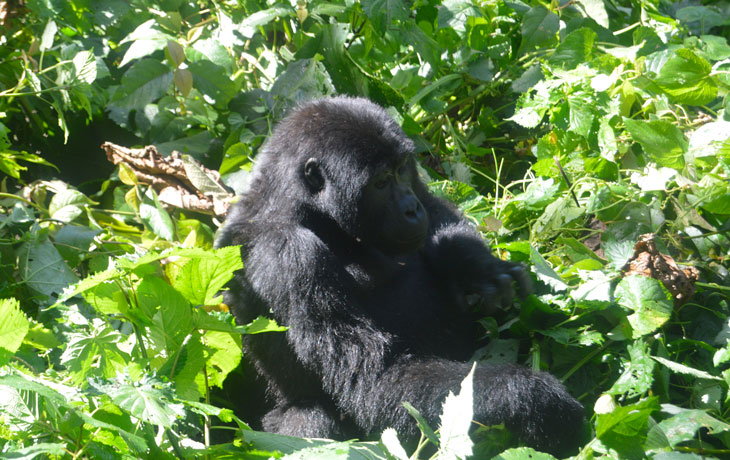 Bitukura Gorilla Family groups
Site: Ruhija
Group size: 14 individuals with 4 silverbacks
Located in the Ruhija side of Bwindi Forest National Park is the Bitukura Family. This group was named after the river Ruhija. The Bitukura family was habituated in July 2007 and the group was opened for tourism in October 2008 it was easy to access because of the bond it shared with the Kyaguriro family. Bitukura group had originally 24 members but has reduced to 14 individuals during the last few years.
It is a peaceful family with four silver-back, where the second youngest silver-back Ndahura is the leader. He took the role from former Silver-back Karamuzi who stayed over 40 years and is now retired. In April 2013 the adult female Ruhara gave birth to a baby gorilla, who is closely guarded by his proud father Ndahura.
Oruzogo gorilla family groups
Site: Ruhija
Group size: 25 individuals with 2 silverbacks
The Oruzogo group is the second habituated gorilla family living in the Ruhija area and consists of 23 individuals led by Silverback Tibirikwata. The family opened for tourism in 2011 and since then it has expanded. Ntamurungi (Female Adult) gave birth to a baby gorilla in June 2011 and Musi gave birth in October 2011. More joy came when a set of twins was born in March 2012 to a mother known as Kakoba. Other individuals in the group include Busungu (" short-tempered"), Kaganga ("the giant one") and Bwoba ("the coward").
Nkuringo Gorilla Family groups
Location: Nkuringo
Group size: 19 individuals including 2 silverbacks.
The Nkuringo gorilla group was completely habituated in 2004 as the name Nkuringo means "round hill" in Rukiga, where this group was first seen. Due to their behavior to feed on bananas, sweet potatoes, and other crops, they used to create problems for the local communities. Initially, the group was led by the elderly Silverback Nkuringo who died in April 2008, leaving behind two silverbacks, Safari and Rafiki.
Safari (His Son) took over the guidance of the family; however, seven months later, the Nkuringo family welcomed a set of twins from mother Kwitonda, named Katungi and Muhozi. Regrettably, Katungi fell sick and died at the age of 15.
Nshongi Gorilla Family
Site: Rushaga
Group size: 26 individuals with 4 silverbacks
Named after the river close to where the family was first seen, the Nshongi gorilla family was opened for tourism in September 2009 due to its large size with 36 individuals. This group is without a single doubt the largest Gorilla group ever habituated. This group had three silverbacks and seven blackbucks that lived in harmony with each other and didn't make an attempt for leadership.
It is important to note that the dominant silverback Nshongi was not even the oldest silverback in the family. This on the other hand did not stop the group from splitting in July 2010; the newly formed family was led by the silverback Mishaya who left with 10 members.
Mishaya Gorilla Family groups
Group size: 12 individuals with 1 silverback
Mishaya was part of the Nshongi group that decided to split in July 2010 to establish its own family. Mishaya was often seen starting fights with other gorilla families and that's how he managed to expand his family by bringing in females from other groups. In April 2011 he clashed again with a non – habituated gorilla family, resulting in serious injuries for himself and a 2-year-old infant but was treated by veterinarians from the Mountain Gorilla Veterinary Project and he continued to lead this group.
Kahungye Gorilla Family
Site: Rushaga
Group size: 13 individuals with 3 silverbacks
Kahungye is one of the most recent habituated gorilla family groups in Bwindi National Park and was open for tourism in October 2011. However, in less than a year the group split creating a new family that is called Busingye. Initially, the family consisted of 27 individuals including 3 silverbacks, the dominant silverback is called "Gwigi" meaning "door" in the local language.
Bweza Gorilla Family
Site: Rushaga
Group size: 9 individuals with 1 silver-back
Bweza is another Gorilla Family that broke off from the Nshongi family which was the largest gorilla group ever habituated. Two years later Bweza, another silverback preferred to separate himself from the rest of the group. Initially, the UWA rangers suspected that they would get back together again, but when it appeared that the split was infinitive, this "new" group opened for tourism in December 2012.
Busingye Gorilla Family groups
Site: Rushaga
Group size: 9 individuals with 1 silver-back
Silver-back Busingye decided to split from the "Kahungye" meaning, "peace" group in June 2012 to create his own family. The irony in this silverback's name is quite evident as the silverback was seen starting fights with other gorilla families. Busingye liked showing his power and whenever he encountered a wild Gorilla family, he would mercilessly grab a female to add to his own family hence making him enlarge his family to bigger numbers.
Nyakagezi Gorilla Family
Group size: 10 individuals with 3 silver-backs
Nyakagezi Group is the only habituated family found in Mgahinga National Park and is led by Mark, the dominant silverback. Mark is the kind of silverback that likes traveling and keeps on crossing borders from Uganda to Rwanda and the Democratic Republic of Congo. Lately, this group has been back in Mgahinga National Park since November 2012 and is likely to stay here for a while.
In May 2013, the family was blessed with a new baby who increased the group number to 10 members. Because of the unpredictable behavior of this family, it is sometimes not advised to book permits for the Gorilla trek in this park because there is a chance you may not see this Gorilla group because it is when sure that the family is within Uganda.
Kyaguriro Gorilla Family
Site: Ruhija
Group size: 15 individuals with 2 silver-backs
The Kyaguriro family is the one group that was habituated for research. By closely keeping in contact with this group, environmentalists have learned a lot about the mountain gorillas of Bwindi and in general the characteristics of the mountain Gorillas. This includes the remarkable differences with the mountain gorillas that live in the Virunga Volcanoes. Initially, the family was led by an aging silverback Zeus who was banished and replaced by his rival Rukina. Zeus is said to have died alone in exile as he was banned from the family group.