Gorilla Tracking Destination & Mgahinga and Bwindi National Park
Gorilla tracking destinations, in Uganda, are mostly done in two National Parks that is Bwindi Impenetrable Forest National Park, located in the southwestern region of Uganda on the edge of the Albertine rift valley near the border of the Democratic Republic of Congo.
It is approximately 331 square kilometers gazetted in 1991 and declared a UNESCO natural world Heritage in 1994 under the management of Uganda Wildlife Authority and Mgahinga Gorilla National Park located in the southwestern region of Uganda, Kisoro district. Uganda's smallest National Park with 33.7 square kilometers. Gazetted as a National Park in 1991 and is managed by Uganda Wildlife Authority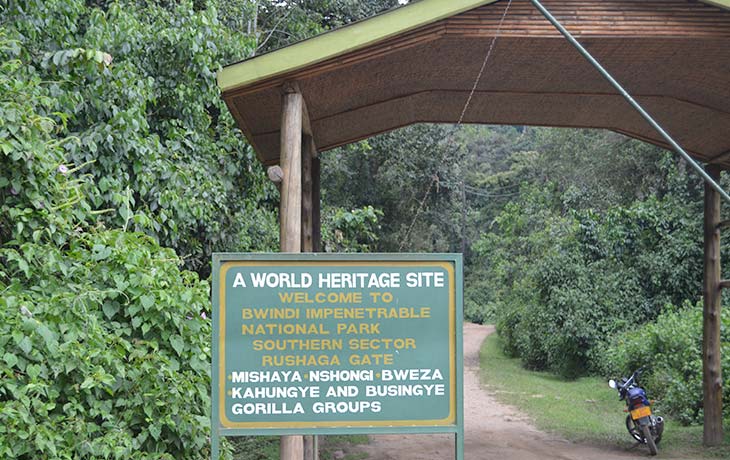 Both National Parks are tropical rainforests making them a safe home for the Mountain Gorillas to climb, play and roam throughout the day. It's a good experience tracking these gorillas as they have human behaviors on the other side of life. Bwindi National Park shelters over 400 Mountain Gorillas from 15 gorilla families while Mgahinga has one gorilla family.
Bwindi Impenetrable National Park Sectors
There are four sectors in Bwindi where gorilla tracking takes place namely, Rushaga located in the southern part of Bwindi. This sector has 5 gorilla groups, which makes it the best trekking sector. Buhoma is located in the northern part of Bwindi, Nkuringo sector home of the Nkuringo family and Ruhija sector.
Mgahinga Gorilla National Park
Mgahinga Gorilla National Park has only one sector called Nyakagezi where one can track the Nyakagezi group.
Accommodation in Bwindi Impenetrable Forest National Park
Luxury: Buhoma Lodge
Midrange: Rushaga gorilla camp, Haven lodge and Silverback lodge
Budget: Gift of nature, Ruhija trekkers Tavern and Buhoma community rest
Accommodation in Mgahinga Gorilla National Park
Luxury: Volcanoes Lodge
Midrange:  Mucha lodge
Budget: Travelers' rest
Gears for gorilla tracking destinations / what to pack.
Hiking boots
Rain jacket
Long-sleeved shirts
Bottles of water
Pair of binoculars
Hat and sunglasses
Cameras and extra battery
Porters for your gorilla trek
Gardening gloves
Insect repellent