What you need to know about Gorilla trekking / tracking
Gorilla trekking/tracking is an adventurous activity that has become popular in recent years in both Uganda and Rwanda. For first-timers to this adventure, it is very important that you understand the difference between trekking and tracking so that you can choose a group that will best meet your expectations. Gorilla Trekking involves walking for long distances with hikes involved while tracking is a short walk and does not involve hiking. According to these terms, Gorilla groups are divided according to easy, moderate and hard;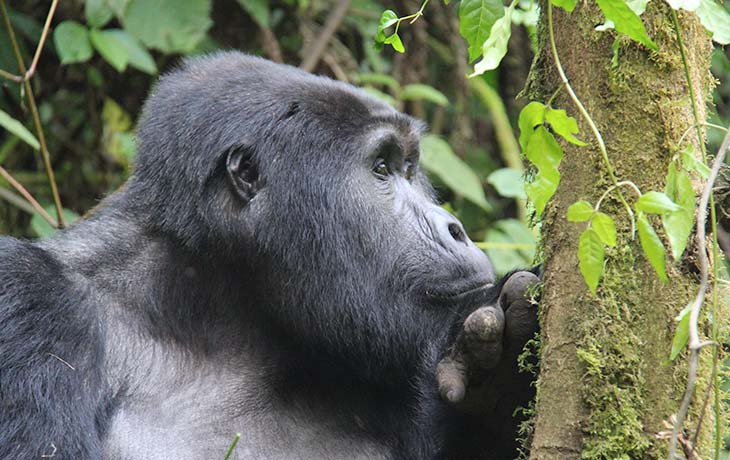 Gorilla trekking in Uganda or Rwanda
Gorilla tracking groups in Uganda and Rwanda
The easy group: is one where you will typically track Gorillas. It takes a very short time to get to where the Gorillas are to view and observe them.
Moderate group : (in-between tracking and trekking) has the Gorillas relatively further into the forest and therefore you will walk a bit more than the easy group and you may even have a few minor hikes before you get to the Gorillas.
Hard group: is one of the typical trekkers that will involve walking a long way into the forest with a lot of hikes before they get to where the Gorillas are.
Note: Regardless of the group you track, you will be given one hour with the Gorillas to observe them and take plenty of pictures.
So, with all that in mind, it is very important you let us know what your preference is i.e. Whether it's trekking or tracking so that your tour guide knows beforehand which group will be suitable for meeting your expectations.
What to bring for Gorilla trekking/tracking.
An excellent camera is a must so you can capture your memories with the Mountain Gorillas.
Long trousers and long-sleeved shirts preferably dark colours like army green, grey, brown, beige forest green or black because these are considered more appropriate while with these beautiful creatures.
Hiking boots and long socks to pull over your trousers; is very essential for trekkers, it helps prevent safari ants from ruining your adventure by crawling up your legs.
Gloves, are not typically essential but can be helpful for some when holding the walking stick.
A rain jacket and waterproof camera bag are very essential as this is a rain forest and it is prone to rain even when you least expect it.
Insect repellent and sunscreen are essential.
Last but not least, come with your adventure hat ready for an awesome trip because, in the African jungle, you can be guaranteed lots of good surprises.