Kasese Shootings around Royal palace
The police have confirmed the sudden attacks between the Rwenzururu royal guards and the UPDF.according to police spokesperson Fred Enanga.he says the Royal guards shot at the UPDF soldiers who had secretly visited the palace without any official notice. It's alleged that the Royal guards thought they were shooting at rebels or thugs.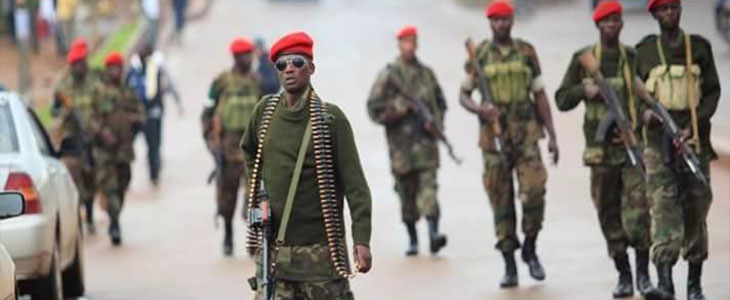 The district recently formed in 1974 under the Provincial Administration of Rwenzori district which was curved from Tooro Kingdom. it is comprised of districts of Kyenjojo, Kabarole,Kamwenge,Bundibugyo and Kasese.but Kasese is composed of two counties (Bukonzo and Bushongora), five constituencies, 23 rural sub counties, 3 Town Councils and one(1)Municipality which has 3 divisions.
Kasese District is located in Western part of Uganda bordered to the North by the district of Bundibugyo, the North East by Kabarole, to the South East by Kamwenge, to the South by Rubirizi partly Rukungiri and to the West by the Democratic Republic of Congo. It lies between latitudes 0o 12'S and 0o 26N; longitudes 29o 42'E and 30o 18'E.The District has a total surface area of 3,389.8 square kilometers. About 63% of the land area (1834.6 square kilometers) is occupied by nature and wildlife conservation schemes and farm lands.
More details have emerged on the circumstances under which two UPDF soldiers were shot dead in the battle around Mumbere's palace on Sunday, the heavily guarded palace is occupied by a controversial traditional leader His Highness Wesley Mumbere whom the Uganda government/security suspects of harboring militants in the reagion.In recent weeks, many people have died in deadly clashes between security forces and groups thought to be loyal to Mumbere.area Member of parliament Winnie Kiiza said UPDF forces raided the palace with out any official order and the Royal guards decided to forcefully shoot at them leading to the bloody loss of lives.
"Two unknown civilian vehicles had trailed the palace since morning. When the royal guards approached the vehicles they were surprised to find the army inside them. The army opened fire on the guards instantly killing one of them," she stated on phone. The remaining royal guards, according to the MP, rushed back to the palace and returned fire to defend themselves – killing the said two UPDF soldiers." The Obusinga guards had to return to palace for better defensive positions. They shot two UPDF officers dead."
This is the first time that a gun battle is being reported inside the palace of a King. The incident shed light on the tension within the palace itself and high levels of mistrust among the guards. However this should not scare any one from visiting the country, Uganda is safe and will remain the same.at Simba Africa Expeditions Limited we are ready to receive you through the Kasese's renown ambiance and glance.