Lake Mburo smallest National Park
Lake Mburo is the smallest Park, extending over 260 km with 20 % of the surface area as wetlands. Lake Mburo National park offers more than wild life; it is very convenient, located along Kampala-Mbarara high way a route which link Uganda to the Rwanda, Burundi, DR.Congo and Tanzania. it is the smallest of Uganda's Savannah Parks and it is home to more than 300 bird species,topi, zebra,impala,eland, waterbuck, Leopard, Hippos, Reedbuck, Hyena, Oribi and Defassa. Lake Mburo is a 50 km-long wetland system linked by a swamp. It is bordered by other lakes which are covered by an open savanna The Park was originally gazetted in 1933 and upgraded to a game reserve in 1963, residents continued to graze their cattle until 1983 when it was upgraded to a national park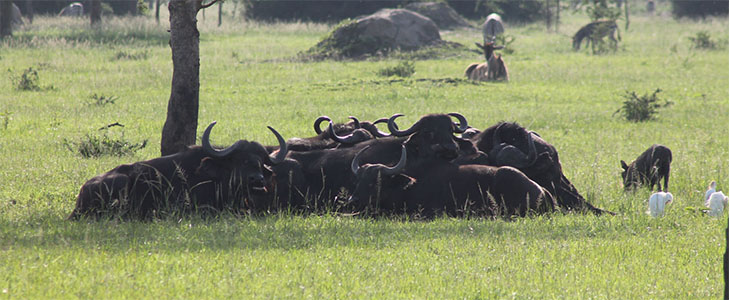 Why Lake Mburo Smallest Park offer more than wildlife?
Lake Mburo smallest National park is just 3 hours from the Central/Kampala out of Buganda region to the western region formerly known as Ankole region, you will have an opportunity to stop at the Equator lines (the middle of the world).you will see the country from the flat plains to the high plateaus of Uganda's ambiance rolling hills. very recently the Uganda wildlife authority introduced giraffes in Lake Mburo with a view to help diversify wildlife and consequently attract more tourists to the park.
The park had not had giraffes since it was Gazetted.The Park is by passed by the majority of independent travelers despite of its relative accessibility although it offers some excellent game viewing, and you are almost likely to see variety of large mammals during your visit to the park.