2 days Mountain Nyiragongo Volcano Hiking (Mount Nyiragongo Hike)
2-days Mountain Nyiragongo Hiking adventure to Mountain Nyiragongo Volcano will not fail to give you the most magical moment of your life! Imagine spending a night at the top of an active volcano with the world's largest lava lake. Mount Nyiragongo is found in the Democratic Republic of the Congo and these 2-days Mountain Nyiragongo Volcano Hiking with being a memorable adventure to remember.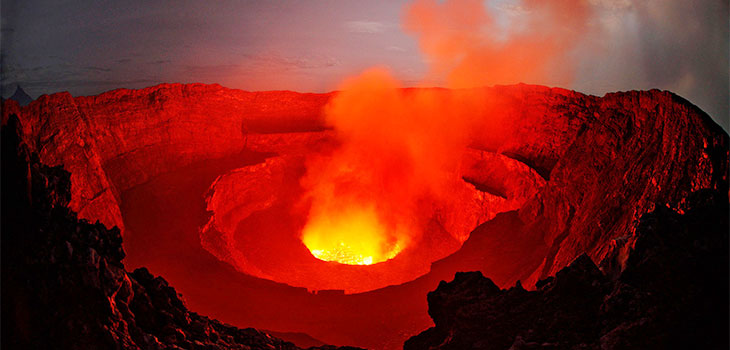 Highlights for Mountain Nyiragongo Hiking
Hiking Volcano Mountain.
Travel in a 4×4 customized safari Vehicle.
1-night accommodations.
Pick-up and drop-off of the desired place.
Day 1: Transfer from Virunga to Mountain Nyiragongo Volcano
After your breakfast, you will transfer from Virunga National Park to the Nyiragongo trekking starting point where you will begin the 5-hour trekking up the beautiful volcano at exactly 10:00 am after the briefing that will give you some good tips on what to expect and how to make it to the top because it's a desire of all trekkers to make it to the top. When you get to the summit you will get to view the world's largest lava lake and take plenty of pictures. Dinner and overnight.
Day 2: Descend down the slopes of Mount Nyiragongo Volcano
Wake up to a delicious breakfast and at around 6:30 am begin the 3-hour descent down the slopes of this beautiful volcano but of course, not before you get another viewing of the lava lake. When you get to Kibati station, you will congratulate your team members and say your goodbyes to continue with your safari.
NOTE: If your safari ends on day two and you intend to depart that very day to return back home after the hike to Nyiragongo, please be kind to yourself and book a late evening flight back home, so u can use a few hours rest after your lunch and then transfer to the airport later in the day to catch your flight back home. Age limit for Mountain Nyiragongo Hike: 12 years
Things to bring for 2 days Mountain Nyiragongo Hiking
Hiking boots that are waterproof-quick dry.
Waterproof camera bag with a good lens camera.
Small hiking equipped with all essentials.
Altitude sickness medicine.
Very well insulated Jacket (Also, Warm fleece, rain jacket, and windbreaker), hat, gloves and thermal wear.
Trekking pants that are waterproof-quick dry.
Insulated lined sleeping bag.
Sunscreen, hat and sunglasses.
Hand sanitizer gel, toilet paper.
Snacks are very essential, especially ones that are high in carbs to give you the energy to hike all the way to the top.
A walking stick will be provided at the starting point of the hike at a fee of $5.
NOTE: You can also choose to not bring any trekking gear and choose to purchase the Meal and Gear package at $ 100 in Virunga, this package includes snacks, lunch, dinner for day one and day 2, breakfast and snacks with water included.
Gear provided for Mountain Nyiragongo Hiking includes.
Sleeping bag.
Jacket.
Fleece.
hat and rain poncho.
Mount Nyiragongo hiking includes.
Mountain Nyiragongo Volcano Permit.
Mikeno Package/Sleeping bags.
Camping gears at the top of Nyiragongo.
Accommodation and Meals as in the travel Plan.
4WD Safari Jeep transportation.
Knowledgeable English-speaking Guide.
Drinking water and Lunch.
Mount Nyiragongo hiking excludes.
All expenses of personal nature.
Airfare, Rwanda Visa.
Luxury Drinks and laundry.
Tips to local guides.
Porters.
Porter fee while trekking/Hiking Mountain.
Personal insurance.
personal shopping bills.