Mountain Nyiragongo volcano Hiking
If you think hiking an active volcano is on your to do list, you are right! And Nyiragongo Volcano, located in Democratic Republic of Congo should be your first and only choice as it will definitely give you the best adventure of your life! It's an active Volcano guys and not only that, it has the world's largest lava lake, 600m deep, and so hiking this beautiful volcano will indeed make you one of the most fearless individuals in the world!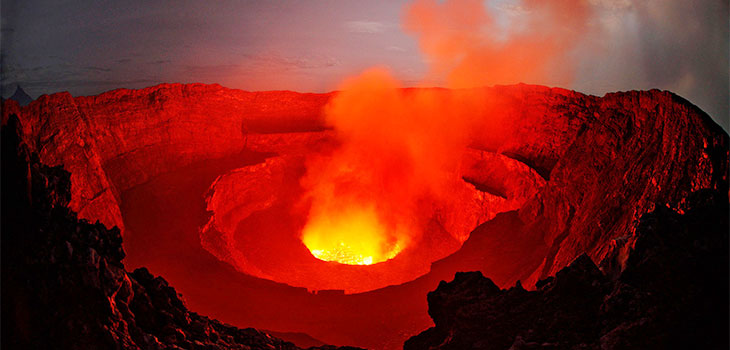 Nyiragongo lies on an altitude of 3,470m above sea level in the Virunga Mountains of the Albertine rift valley and it does get pretty icy cold at the top especially during the night, so don't let the lava fool you, it is not going to be a campfire up there! The hike to the top takes about 5 hours and it starts at 1,984m (6,510ft) and winds up at 3,470m (11,385ft) above sea level, making it an 8km hike up the mountain.
You will get to sleep atop the volcano in the Cabins and descend the next day after a heavy breakfast packed with lots of carbs to give you enough energy for the descend of this beautiful volcano that can take half the hours it took to go up but the shaky rocks from beneath you make it almost impossible for one to find their footing. Once you make it down though, you can't help but feel the great sense of achievement and joy.
Like any mountain hike, the body has its own way of responding to the change in altitude and it will most definitely be expected during your hike to Nyiragongo and that's why it is important to have adequate training in fitness and endurance prior to your attempt of hiking this volcanic mountain.
Although when you really think about it, the strength of endurance lies in looking to the reward that awaits you at the top of the mountain, the most magical sight that nature has ever gifted human race with. Nyiragongo has erupted 34 times from the first that was documented in 1882 and its last eruption was in 2016 but the 2002 was probably the worst of its kind with over 100 lives lost and others displaced to nearby towns and this brought a major concern of effectively monitoring the volcanic activity of Nyiragongo so as to reduce its effects on the human settlement around it especially in Goma but still even the close studying of Nyiragongo has not helped in determining when the 2002 incident will re occur. The danger of Nyiragongo's eruption is that the lava is Viscous and is of high alkaline composition making it able to move up to speeds of 90 km/hr hence its vast effects on the population of people that live in nearby towns around this mountain.
All in all though, there is no need to weary about your safety while hiking the world's most interesting volcano, you will be very safe and have the time of your life while marveling at the wonder of nature. So come, let's explore Nyiragongo together!