Gorilla tracking Bwindi (Gorilla Habituation Experience)
Gorilla tracking Bwindi and habituation experience are the main activities that are done in Bwindi Impenetrable National Park, located in the southwestern region of Uganda with approximately 540 km distance from Kampala capital city. There are four trail heads (Rushaga, Buhoma, Nkuringo and Ruhija) where one can track any of the gorilla families.
There is also gorilla habituation experience in Rushaga where you can be with these gentle giants, play with them for over four hours it's really an amazing experience. Bwindi impenetrable forest National Park can be accessed either by road or air.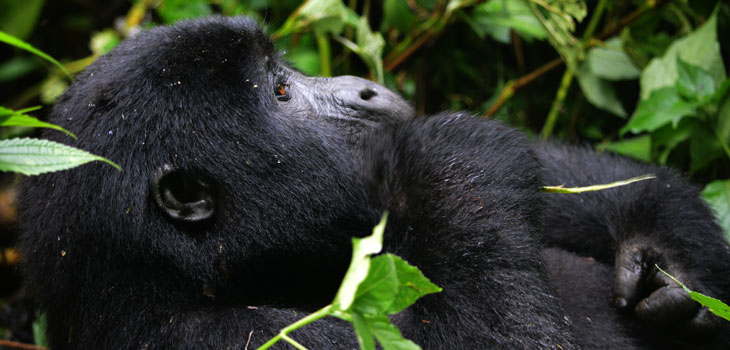 By road, one drives from Kampala through Masaka, Mbarara, Kabale then to Bwindi though in this case a 4×4 vehicle is needed during the rainy season.
By air, travelers can choose to fly from Entebbe or from Kampala at Kajansi airfield to Kihihi or Kayonza or Nyakabande airstrips.
Other Activities that can be done in Bwindi other than Gorilla tracking & Habituation;
The Batwa community walks
Batwa are the first people of the forest, they live in harmony with nature. Many people want to visit them, experience their indigenous ways of living, their songs and dance.
Hiking
Hiking in Bwindi is done from Nkuringo side to Lake Mutanda where you paddle across in a wooden dugout and continue to Kisoro. Hiking is always with a guide and this guide incurs fees per person.
Birding watching
400 bird species have been recorded in the park thus picking it as Africa's number one birding site so visitors can track gorillas while watching birds.
Mountain bike rides
Buhoma area provides the best biking experience, you can also do village walk on the bike with the help of a guide, and the average bike ride is three hours with much to see along the trail or road.
Best time to visit Bwindi Impenetrable National Park for Gorilla tracking Bwindi
June to August as well as December to February. These months give the best tracking experience due to the dryness of the trails. Tracking is best done in dry season and the above-mentioned months are always sunny but still tracking can be done throughout the year.