White water rafting on River Nile ( Rafting Uganda )
Delight your senses with an adventurous day of White water rafting in Uganda's adventure capital, Jinja! White water Rafting like any other sport takes skill and probably a little bit of an adrenaline junkie to an individual. The waters are quite unpredictable and many end up falling off the raft at the strength of the waves but you have to stay calm and just enjoy the refreshing slap of the waves as they cool off the sun's beaming rays with each long splash. The knowledge that you are on the world's longest river is almost unbelievable and sure enough something to boast about.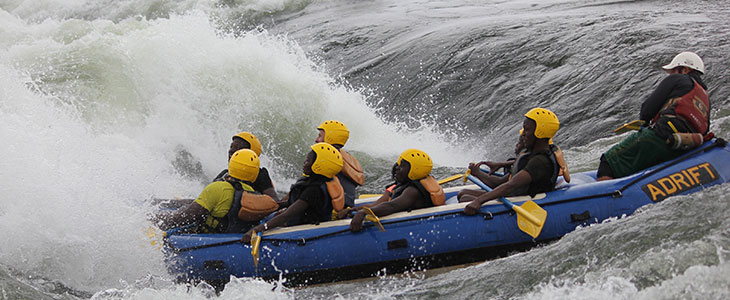 This activity begins with a briefing (after your breakfast) about what to expect and what to do in different given circumstances, you will then be divided into teams that will be on different rafts, teams of 9 or 8 depending on the capacity of the raft. Group pictures are taken with your guide before you get onto your raft to set off for your perfect adventure. On the smooth part of the river, you will practice different scenarios like long-distance swimming, in case the raft flips over, what to do and how to hold onto the Kayak, the guide will give you tips and the one thing that is most definitely emphasized is to, "stay calm" and let the waves bring you to the smoother part of the river where you can be easily seen and pulled back onto the raft by your teammates or the rescue team.
From experience, it's hard to stay calm with your whole body goes into a frenzy at the thought of being swallowed by the waves. During the rafting, there are two cameramen on each point, they make sure to get to those rapids before you do and will capture every beautiful moment and some scary moments with lots of faces holding absolute panic.
After about five rapids, you will get a lunch break that's about one hour. Get some time to relax your arms from the paddling, and take a swim in the Nile River if you like. When the one hour is done you will resume the paddling to get to other rapids, about three of them. After your last rapid, it's time to celebrate with some beer and barbecue as you congratulate each other for surviving the waters of the Nile.
Get to look through some hilarious pictures of your teammates sharing in the joy and get to take pictures with you back home and you can buy the video too as a team just to celebrate those beautiful memories together. You will then be picked up and dropped off at your desired destination, with no regret whatsoever for the adventurous day you would have had!