Uganda North Korea Relationship end
Uganda North Korea Relationship, Following their long term relationship since the early 70's. Uganda and North Korea relationship finally has come to an end. Yesterday 29th 05 2016 in the presence of Uganda's President Yoweri Kagutta Museveni and Korean president Park Geun-hye at state house Entebbe. Park arrived in Uganda on 28th 05 2016 and this was her second leg African tour after Ethiopia where she addressed the African Union. park is promoting business and trade opportunities in Africa, she was received by foreign affairs minister Sam Kutesa at Entebbe International Airport, Uganda and south Korea established diplomatic ties in 1963.she is expected to visit Kenya on Monday 30th 05 2016.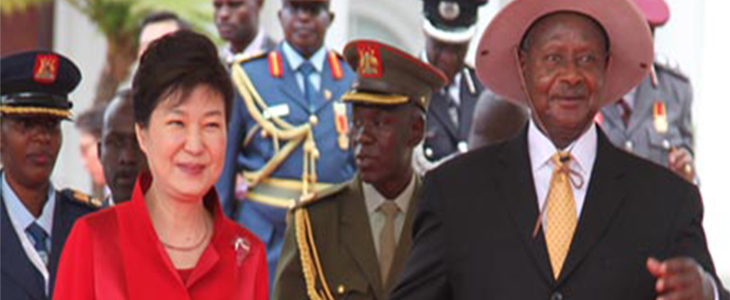 The two countries signed ten different memorandums of understanding to strengthen their ties; this visit is victory to South Korea as North Korea looses the pearl of Africa (Uganda). Following this meeting at Entebbe state house, Uganda adhere to the united nations sanctions to end all its military links with North Korea as it forges new ties with south Korea. The directives took immediate effect to ensure that Uganda compiles with the UN resolution on North Korea.
Uganda has been Africa's closest ally with North Korea; this meeting will halt all the military cooperation's following this summit meeting with South Korean president. North Korea and Uganda have been working very closely especially in police and military, all these links have come to an end hence representing victory for south Korea as it disrupt all the diplomatic and financial network to discourage North Koreas nuclear arms development.Ms.Park is on a three nation round tour in Africa to discuss on how to increase economic and other links such as security.
The United Nations imposed a new sanction on North Korea following its fourth nuclear test in January 2016.the country was banned from all military links with foreign countries including all weapons trade and training contracts. Military trade has for many years been a source of income and intelligence for North Korea.ugandas links with North Korea begun in the early 1970s during the reign of Dictator Idi Amin who signed an agreement with Pyongyang to provide weapons and training for his forces. Today North Korea has been helping Uganda with support to training forces and arms maintenance.
This victory is expected to bare fruits especially with in the African tourism sector. North Korea's tourism industry is not good at all due to its poor foreign policies. Many people fear to visit this; the European Union and the USA have occasionally warned its citizens from not visiting this country. Many tours and travel bureaus' such as Trip advisor has never recommended North Korea a fine destination for tourism