Gorilla habituation experience in Uganda
Gorilla habituation experience is the act of training wild mountain Gorillas to become used to the sight of people. In this process, different groups of people come together, join knowledge and train these wild gorillas to get used to human being. These are people like trackers, conservationists, researchers and rangers who keep on visiting an identified wild gorilla group on a daily basis.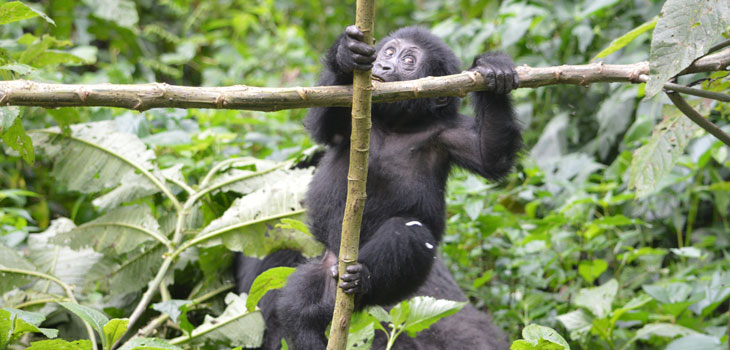 Gorilla habituation training takes a period of 2 to 3 years to be completed. After the training and researchers under Uganda Wildlife Authority are certain with the wild gorillas, a mock excise is done by some people like journalists and scientist to these gentle giants, if they pass this exercise, they are given names then it is okay that they can interact very well with human being and are also given names therefore at the end of the day a gorilla group is available for visitors to interact with.
In Uganda, Gorilla habituation experience takes place in Bwindi Impenetrable National Park at Rushaga sector, and it allows a maximum number of 4 people each day, but you can interact with these gentle giants for four hours – to a full day depending on one's energy and ability unlike Gorilla tracking which is restricted to only 1 hour. During this process, people get to understand Gorillas deeper and individually, know their behaviors, likes and dislikes.
Gorilla family Groups in Each sector of Bwindi
Buhoma : (Habinyanja, Mubare, and Rushegura) in the Northern section
Ruhija : ( Bitukura, Kyaguriro and Oruzogo) in the Eastern Part
Rushaga : (Busingye, Bweza, Kahungye, Nshonji and Mishaya,)
Nkuringo Gorilla Family all in the south
Accommodation in Bwindi Park while on Gorilla Habituation Experience Safari
Luxury: Chameleon hill Lodge
Midrange: Rushaga gorilla camp
Budget: Nshongi campsite
Gears for Gorilla habituation experience / what to pack.
Hiking boots
Pair of binoculars
Hat and sunglasses
Cameras and extra battery
Porters for your gorilla trek
Gardening gloves
Insect repellent
Rain jacket
Long sleeved shirts
Bottles of water