Namugongo Marty's shrines.
Before Christianity set foot in Uganda, many people worshiped the supreme God who was the basis for public and private life with a strict moral code, but they knew that God did exist. When the missionaries arrived in Uganda they taught people several ways of interacting with the highest God. Here a number of young men who were excited were recruited and begun to preach the gospel for the first time and they were encouraged to live and die for their faith. A reality was revealed as 24 martyrs were butchered and burnt at Namugongo.among the 24 martyrs who were burnt on 3rd June 1884 at Namugongo 13 were Catholics and 11 were Anglicans.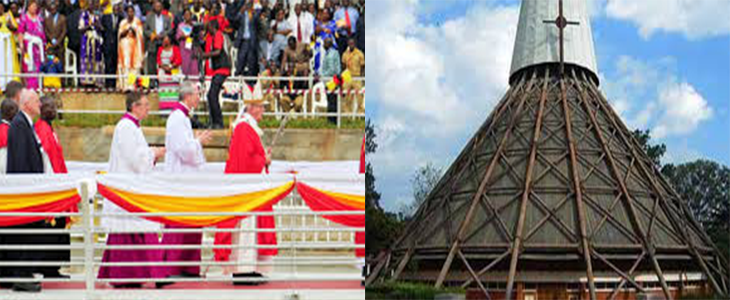 All this came to reality on orders of by then the Kabaka of Buganda Mwanga.although majority of these martyrs were peg boys or royal servants who had been born and raised to serve the king, this didn't save them from the execution. These martyrs were beautified by pope Benedict xv on 6th June 1920 and canonized by pope Paul vi on 18th October 1964 in Rome. These martyrs are still honored today every 3rd June every year and it's declared a public holiday in Uganda. In 2006 Namugongo Martyrs shrines was launched by Hon. Rukundo Sarapio Karasani Uganda's state minister for tourism a peace park meaning that it was open for tourism.