3 days Murchison falls Balloon safari (Hot air balloon Tour)
The major highlight of this adventure is going to be a 3-days Murchison Falls Balloon safari which was introduced to the park in February 2016 to give a different feel to the game viewing, making it a whole new amazing experience in the wild! Our 3 days at Murchison Falls and Hot air balloon safari offer a range of activities starting from aerial game viewing of various animals like lions, elephants, giraffes, monkeys and as well as aquatic animals like hippos and Nile crocodiles when you are on a boat launch. Murchison Falls National Park. It's Uganda's largest park outstretched on an area of 3,893 km2 in the northwestern part of Uganda.
Book Now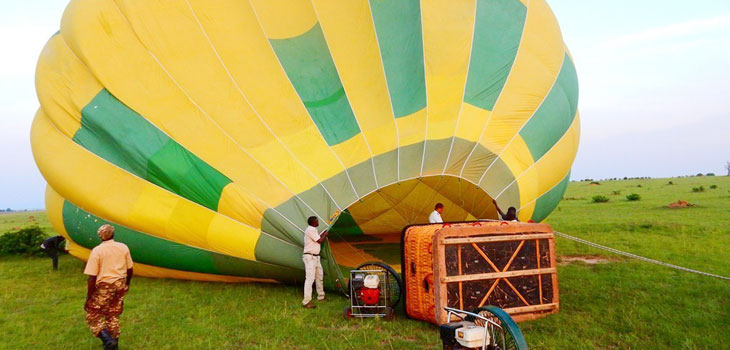 Hot air Balloon safari in Murchison Falls
The highlight of the 3-days Murchison Falls Balloon safari.
Guided overland game drive.
2 nights' accommodation in the National Park.
Service of English-speaking driver or guide.
Launch cruise on the Nile.
Exciting aerial game viewing in Murchison falls National Park.
Travel in a Customized 4WD safari vehicle.
Delicious meals.
Airport transfers.
Detailed itinerary for 3-days Murchison Falls Balloon safari.
Day 1: Travel to Murchison falls National Park
Pick up from the area of your preference at 6:45 am after you have had breakfast. We will then begin the trip to the National Park for approximately a 5–7-hour drive. A stop shall be made for the bathroom, buying snacks and a good time to stretch your legs out before we proceed with the journey to Murchison falls National Park. Upon arrival, you will check into the safari lodge.
Have lunch and then head out for an evening game drive, a great chance to see cats as they make their evening rounds looking for food or finally coming out of their hiding because the sun is setting and it's much cooler. During the game, drive feels free to ask as many questions as you like so you can learn different interesting things about the various animals from our professional tour guides.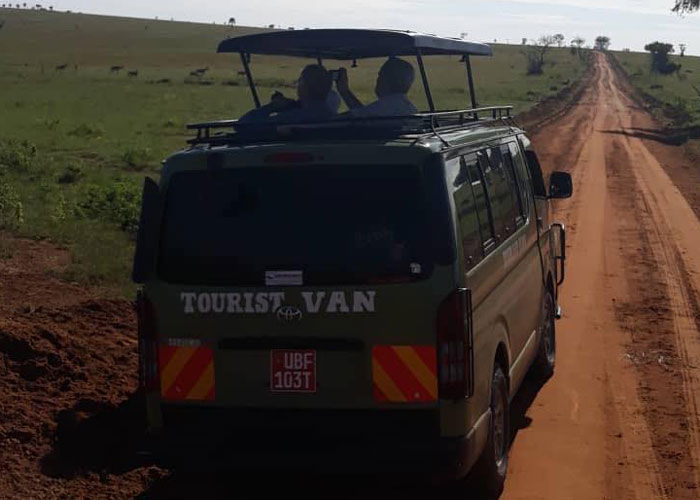 Game drive in Murchison falls National Park

NOTE: It's not always a guarantee to see all the various animals in the park, especially the cats but there is a great chance that you might see them during an evening or an early morning game drive because it is less hot around that time and therefore the animals are freely roaming around as opposed to typical afternoon hours when it gets too hot for the animals and they go under they take cover from the sun.
Day 2: Hot Air Balloon safari in Murchison falls National Park
Wake up to a delicious cup of Ugandan Coffee, prepared the way you like it at about 5:00 am. (can be later depending on the location of your safari lodge) you will then set out for the dream balloon station for the hot balloon safari experience for approximately 1 hour up in the air enjoying the panoramic view of the Park's wild outstretched Savannah grassland and beautiful trees as well as a great opportunity to see different animals as they arise from their slumber.
With the usual wakeup song from the birds and the clouds opening up like a Curtain to reveal perfect blue skies. It's the most enchanting feeling! You will probably want to stay there engulfed in the magical feel of nature, but before long, it will be time to head back to your safari lodge, have dinner and then retire from the long fun-filled hours of many adventures for the day! You will be encouraged to get your rest after dinner so as for you to be able to wake up on time the next morning to exit the park and head to Kampala.
Cape Buffalo In Murchison Falls National Park
Day 3: Travel back from Murchison Falls to Kampala / Entebbe
Wake up at about 6:30 am and get your things in order. Have breakfast after which you will be helped by the driver to load all your belongings into the safari van as you check out of the safari lodge and head out of the park for Kampala. A lunch stop shall be made for about 45 minutes or less and then proceed to Kampala at the drop-off point of your choice where the driver will see you off and make sure everything is okay before saying his goodbyes.
NOTE: Kindly please be sure to have all your belongings before checking out of safari lodges to avoid losing things that may be important to you.
What to bring for 3 days Murchison Falls Hot Air Balloon Safari
A rain jacket is essential as it could unpredictably rain.
Light clothes as the sun does shine pretty bright in this part.
Torch is essential for safety purposes.
Sunglasses to protect from direct sun rays.
A-Zoom lens Camera for photographs.
A good insect repellent to keep those persistent insects away.
3 days Murchison Balloon safari includes:
Airport transfers pick up and drop off at your destination.
Meals per itinerary.
Pure Bottled drinking water.
Hot air Balloon fees.
Private Safari Vehicle.
Services of an English-speaking guide.
Accommodation in self-contained rooms/cottages for 2 nights.
Park access fees.
All activities indicated in the itinerary.
3 days Murchison Balloon safari excludes:
Airfares.
Uganda Visas.
Luxury drinks.
Laundry.
Tips to the local guide.
Telephone fees.
Porter fees when tracking.
Personal insurance and shopping.
Any other item not mentioned above.