3 days Ssese Island tour & Kalangala Safari
3-days tour of Ssese Islands and Kalangala Safari, Ssese Island which is also known as Bugala Island lies in the northwestern corner of Lake Victoria, the second largest freshwater lake in the world! The island is approximately 51 kilometres across the water, located southwest of Entebbe.
Book Now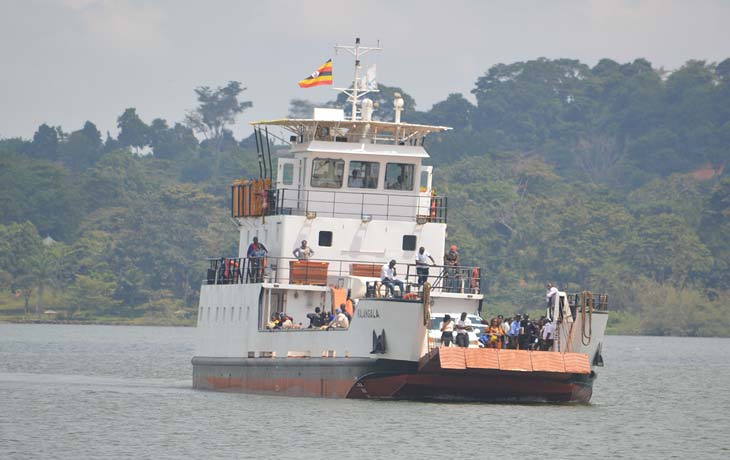 MV kalangala boat cruise to Ssese island
Highlights for 3 days tour Ssese Islands & Kalangala safari Uganda
Travel in a customized 4WD safari vehicle
Amazing Boat cruise on Lake Victoria
Ferry crossing on lake victoria to Kalangala island
Services of professional English-speaking guide
Delicious meals
2 nights Accommodations on ssese island
Airport Transfers
Detailed itinerary for 3 days tour of Ssese Islands & Kalangala Safari Uganda
Day 1: Travel to Ssese island Kalangala / Lake Victoria
You will wake up early, have breakfast, making sure you're ready by 10:00 am to be picked up and dropped off at Nakiwogo. Have all the necessities for your 3 days tour of Ssese Island, that is to say, insect repellent, a camera, a raincoat and a warm sweater for the cold night! Upon your arrival, after you have had lunch on the way, you can walk around and take pictures as you get a briefing from your tour guide about the island and all the activities that you will be doing.
The ferry will depart from Nakiwogo, Entebbe at 1:00 am. The ride will take 3 hours in total. You should arrive in Kalangala by 3 pm, driving straight to your booked accommodation and checking in. You will have time to freshen up and have an evening of relaxation, enjoying the beautiful sunset as it kisses the waters of Lake Victoria. Dinner will be served at 7:00 pm and you can feel free to enjoy the campfire! We recommend an early night for the next day's activities.
MV kalangala transfer from ssese island
Accommodation options
Luxury: Kingfisher Camp ( Tents )
Mid-range: Pearl Gardens Resort
Budget: Mirembe Resort Beach
Meal plan: Lunch and Dinner
Day 2: Activity day at Ssese Islands, Lake Victoria.
Wake up for a cup of African coffee or Ssese islands tea and at 6:30 am be ready to set off with the fishermen to fish for about 2 hours. Enjoying, the typical African fishing experience that is extremely exciting, rewarding your efforts with a fat tilapia for lunch. You will then be driven back to your accommodation to have your breakfast and head for an afternoon nature walk, coupled with bird watching. Ssese Island is blessed with a variety of beautiful birds like Small Egrets and Kingfishers.
About 12:30 pm drive back to your accommodation facility and have lunch then rest. At about 2:00 pm set off for canoeing and an evening hike in the Lutoboka Central Forest Reserve at the hilltop, get to view the beautiful scenery and take pictures of both nature and sunset. You will be picked up from the hike and driven back to your accommodation facility for your dinner and overnight.
Accommodation options
Luxury: Kingfisher Camp ( Tents )
Mid-range: Pearl Gardens Resort
Budget: Mirembe Resort Beach
Meal plan: Lunch and Dinner
Day 3 : Travel Back to Kampala / Entebbe
You will wake up early and have a quick breakfast making sure you are ready by 7:00 am you ought to be out and leaving the hotel or you can ask to have your breakfast to be packed. You will have security checks for boarding the ferry at 7:30 am and you will then board and be set off for Nakiwogo Entebbe at exactly 8:00 am. Expect to arrive by 11:00 am, as your driver/guide will be waiting for you to be driven back to your hotel in Kampala or Entebbe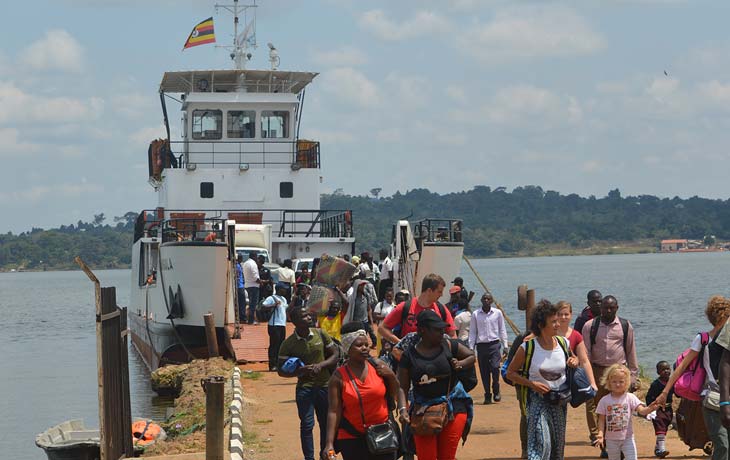 MV kalangala offloading at Entebbe dock
What to bring for 3-days tour Ssese Islands & Kalangala safari Uganda
A rain jacket is essential as it could unpredictably rain
Light clothes as the sun does shine pretty bright in this part
Torch is essential for safety purposes
Sunglasses to protect from direct sun rays
A-Zoom lens Camera for photographs
A good insect repellent to keep those persistent insects away
3 days tour Ssese Islands and Kalangala safari Uganda include:
Airport pick and drop off
Transportation by private safari vehicle
Driver allowances
Guide fees
Bottled drinking water
Meals per itinerary
Private Safari Vehicle
Services of an English-speaking guide
Accommodation in self-contained rooms / cottages for 2 night
All activities indicated in the itinerary
3 days tour Ssese Islands and Kalangala safari Uganda includes excludes
Airfares
Uganda Visas
Luxury drinks
Luxury drinks
Personal laundry
Tips to local guides
Telephone fees
Porter fees for carrying lodges
Personal insurance
Personal shopping bills and cigarettes