Kibale Forest Chimpanzee Trekking (Primates and Birds of Kibale)
To access Kibale forest National Park take the road from Fort Portal to Kamwenge, this commences near the bridge over the Mpanga River in Fort Portal and is well signposted. Turn left at the junction 12 km from Fort Portal and follow the signpost for a further 24 km to Kanyanchu Tourist Centre. Kibale is a unique Park that protects a large block of rainforest that offers an excellent bird watching experience. It harbours a variety of primates that are not found everywhere in East Africa.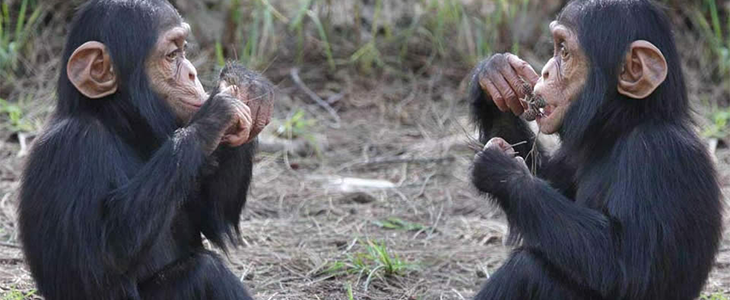 Facts about Kibale Forest National Park
Combined with different bird species, primates, interesting activities and a variety of good infrastructures, this is a recipe for a worthwhile safari's destination. However, more of these facilities are community-based thus providing more locals with the necessary revenue which prevents them from destroying the forests and their belongings. The area is dominated by two indigenous tribes or Batooro and Bakiga who utilize the forest for food, shelter, medicine etc.
Bird watching in Kibale Forest National Park.
Below are some of the major key species of birds and other wildlife found within the Kibale forest; Red-winged Francolin, Red-chested Flufftail, White-naped Pigeon, Green-breasted Pitta, African Pitta, Joyful Greenbul, Grey-winged Robin, Abyssinian Ground Thrush, Grey-throated Flycatcher, White-bellied Crested F, Masked and Black-capped Apalises, Uganda Woodland Wlycatcherarbler, Chestnut-winged Starling, Orange-tufted and Tiny Sunbirds, Grey-headed Olive-back. There is a well-established Chimpanzee-tracking program with a high success rate.
Primates found in Kibale Forest National Park
Other primates that may be found on these guided walks include Guereza Colobus, Olive Baboon, Grey-cheeked Mangabey, L'Hoest's Gentle (Blue) and Red-tailed Monkeys is more likely to be found in open areas adjacent to the forest. You may find evidence of Elephant, Bush Pig and Buffalo along the trails, whilst Bushbuck, Blue, Harvey's and Peter's Duikers are other shy inhabitants of the forest interior. The guided night walks are also rewarding Potto, Spectacled Demidoff's and Thomas's Galagos, Lord Derby's Anomalure, African Civet and Common Genet are all possible.
Kibale Forest National Park Mammals
Other interesting mammals from the list of over 60 species include Ichneumon, Banded and Marsh Mongooses, Alexander's Cusimanse, Swamp Otter, Ratel (Honey Badger) and African Palm Civet. Although Golden Cat, Serval, Lion, Leopard, Warthog, Giant Hog and Hippopotamus are recorded from the park, they are unlikely to be encountered in the Kanyanchu area.
Sitatungas are known from Bigodi Swamp but are infrequently seen. The spectacular and beautiful Rhinoceros Viper is fairly common here but is, unfortunately, less often found alive than as a roadkill.