Ngamba island Chimpanzee Sanctuary (Ngamba Island Tour)
Ngamba Island Chimpanzee Sanctuary, a home to 49 chimpanzees which is located on Lake Victoria, 23 km southeast of Entebbe on 100 acres of rain-forest land divided by an electric wire fence from Human settlement camp and the staff. The island is surrounded by other islands such as Kiimi, Bulago, Damba, Koome and Nsazi.
Initially Ngamba island was inhabited by local fishing Communities who cleared almost 1 acre of forest for settlement and building. In 1998, the local fishermen were moved to other islands and Ngamba Island was secured for 19 Chimpanzees, currently the total number has increased to 49 orphaned Chimpanzees. However, the island also inhabits 120 species of birds and other primates usually seen in the forest.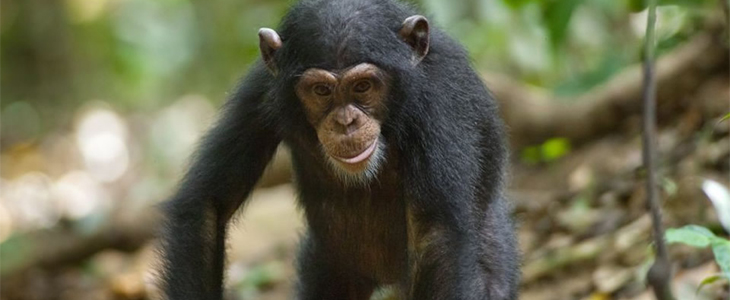 Price per person for different numbers of people. (for 2 people, each pays $160)
Price per person
2 – $160 pp
3 – $145 pp
4 – $140 pp
5 – $138 pp
6 – $130 pp
7 – $130 pp
8 – $130 pp
9 – $130 pp
Facts about chimpanzee in Ngamba Island Chimpanzee Sanctuary
The Chimpanzee life expectancy is estimated to be approximately 45 years when in wild and 60 years when in captivity, they are always de-wormed every after 6 months from bilharzia since the island is surrounded by a water body. The gestation period is eight and half months. It takes about 5/6 years of breastfeeding the baby.
Activities at Ngamba Island Chimpanzee Sanctuary
The island has a number of activities that a visitor can get involved in ranging from chimpanzee viewing and feeding by both staffs and guest themselves and this is done after being washed with sanitizers to prevent Chimpanzees from contracting disease from guest. The feeding schedule is 10:30 am for the morning and 5:45 pm for the late evening; they are both ideal hours as these beautiful creatures are active.
The sun set cruise is so magical, with the local fisherman afar off casting their fishing nets to make the evening catch; it's a picture-perfect sight that will bring back a lot of life filled memories of the descending African golden glow. Sunset, there is Swimming too which is done at Uganda Equator that crosses through Lake Victoria which gives a great experience and fishing can be arranged, who wish to actively get involved.
Other Activities for Ngamba Island Chimpanzee Sanctuary include:
Ngamba Trail
Caregiver for the day experience
long stay visitor programme
Overnight Excursion
Access to the Chimpanzee Sanctuary
Ngamba Island is surrounded by other islands that can be accessed by water or by Air. On Water it takes approximately 45 – 50 minutes by speed boat, 90 minutes by traditional motorized Canoe and 20 minutes by Air either from Entebbe Airport or Kajjansi airfield.
Ngamba Island Chimpanzee Sanctuary includes:
Airport Transfer pickup and drop off.
Transportation by safari vehicle
En-route lunch
English speaking driver guide
Entrance fees
Driver allowances
Driver guide
Boat Cruise on Lake Victoria to Ngamba Island Chimpanzee Sanctuary
Bottled drinking water in safari vehicle.
All activities mentioned in itinerary.
Ngamba island chimpanzee tour excludes :
Airfare
Uganda Visa
Luxury drinks
laundry
Tips to local guides
Telephone
Porter fee while tracking
Personal insurance
Personal shopping bills and cigarettes
Any other thing not mentioned above.