8 days Uganda safaris & Primate tracking
8 days Uganda safaris and Gorilla tracking, exposes you to Uganda primates like big five animals, Mountain Gorillas in Bwindi, Chimpanzees in Kibale, and other wild animals plus the beautiful scenery of Uganda from the northern to south western part of the country.
Book Now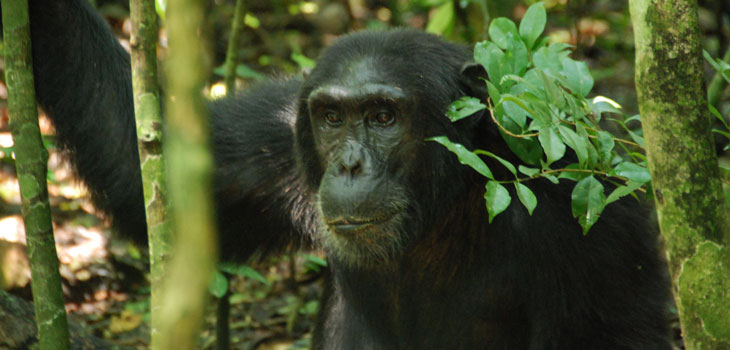 8 days Uganda safaris and Primate tracking
Detailed itinerary for 8 days Uganda safaris and Primate tracking
Day 1: Transfer from Kampala to Murchison falls
Have early breakfast and prepare for pick up from your hotel by 7:00 am. Drive northwards on the Kampala – Gulu for approximately two and half hours and get to the Ziwa Rhino Sanctuary. Set out for a hike on the sanctuary to track the White Rhinos. After close to two hours of trekking, get back on the road and get to Masindi for your lunch, thereafter proceed to Murchison Falls National Park. Check in at your accommodation, relax, have dinner and rest the night.
Day 2: Morning game drive – afternoon boat ride
Wake up to an early cup of tea/coffee at 6:00 am and at 6:30 am set off for the game drive. Expect sighting of Lions, Elephants, Buffaloes, Giraffes, Jackson's Hartebeests, Reedbuck, Uganda Kobs, Warthogs, lots of savanna birds and wonderful scenery. After, return to your accommodation for breakfast and lunch. Later set out for the afternoon Launch Cruise along the Nile to the base of the Murchison Falls. There are lots of wildlife sighting along the Nile, including, Hippos, Crocodile, Buffaloes, Elephants, and lots of water birds. At the base of the falls you can opt of the Launch and hike along the falls to the top of the fall. You meet the driver at the top and transfer to back to your lodge.
Day 3: Transfer to Kibale National Park
Have breakfast check out of the lodge and leave for Kibale National Park. The drive along the scenic Albertine rift valley continues. You will stopover in Fort Portal town for lunch before proceeding to your reserved lodge. Check in and spend the day relaxing and enjoying the natural environment outside at the lodge.
Day 4: Chimpanzee tracking Kibale and Bigodi walk
Wake up to an early breakfast at 6:30 am and transfer to the park offices for briefing. By 8:00 am you trek into the jungle to find the chimps and sight a lot of wildlife. You will spend 1 hour with the chimpanzee, to see how they interact as you take photos. Return to the lodge for lunch. Later head out for a nature walk in Bigodi Swamp for sighting of primates and birds. Return to lodge for dinner and overnight.
Day 5: Transfer to Bwindi Impenetrable forest
After an early breakfast, check out, drive to Bwindi Impenetrable forest. Lunch en-route and proceed to southwestern Uganda to Bwindi Impenetrable National Park – home of the Mountain Gorillas.
Day 6: Gorilla tracking Bwindi – Batwa community
Wake up to an early breakfast, pick a packed lunch, and transfer to the park offices at 7:30 am for briefing by the rangers. You are assigned the habituated gorilla group you shall track and by 8:00 am set off into Bwindi Forest to find the gorillas. You spend an hour with the gorillas, return to find your driver, and refresh, later visit the Batwa community, learn more about their origin, culture and enjoy vibrant songs and dances. Continue to the lodge for dinner and overnight.
Day 7: Transfer to Lake Bunyonyi – canoe ride and community walk
Transfer to lake Bunyonyi and spend the day enjoying the soothing atmosphere of Lake and magnificent highland scenery all around. Take a canoe ride on Lake Bunyonyi and explore its islands, return to the lodge for lunch. Hike the highlands and visit local communities, which are very welcoming and eager for visitors.
Day 8: travel back to Kampala / Entebbe
Wake up for an early morning breakfast, check out and travel back to Entebbe to catch your evening flight back home. Lunch is en-route. You also get to make a stopover at the Equator point for some picture moments.
8 days Uganda safaris and Primate tracking includes:
Chimpanzee tracking Permit
Gorilla tracking Permit
Service of English speaking driver / guide
7 nights accommodations
Pure bottled drinking water
8 days Uganda safaris and primate tracking Excludes:
Airfare
Ugandan Visa
Luxury drinks
Laundry
Gratitude to the local porter
Personal insurance
Personal shopping bills and cigarettes
Any other item not mentioned above