21 days Uganda Rwanda Primates Safaris ( Gorilla & Chimpanzee trekking )
21-days Uganda Rwanda primates experience will leave your thirst for time with these beautiful creatures undeniably quenched. You will get to have a number of other various activities that you will find so exciting including, Nature walks, game drives, boat rides, and gorilla tracking during your 21 days Uganda Rwanda Safari, Kigali city tour, Kalangala Ssese islands which is another fun-filled experience in itself that you will absolutely enjoy.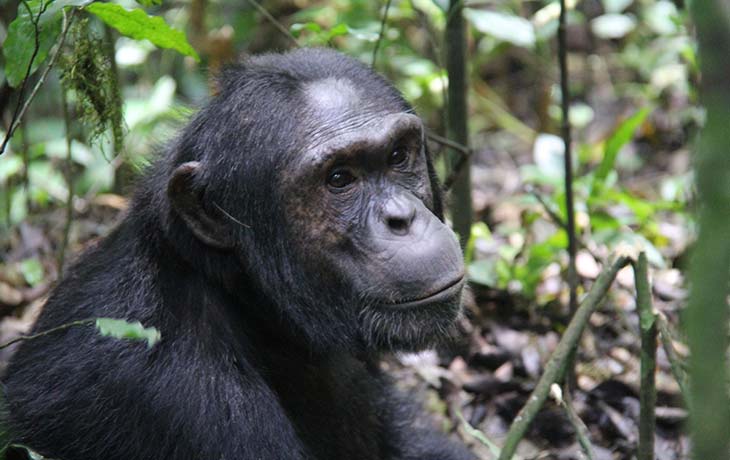 Chimpanzee Tracking in Kibale Forest National Park
Highlights for 21 days Uganda Rwanda Primate Safari
Jinja Excursion in Ssezibwa falls and Sipi falls
Hiking on Mountain Elgon
Game viewing in Murchison Falls National Park
Chimpanzee trekking in Budongo Forest and Kyambura Gorge
Gorilla tracking in Bwindi forest and Volcanoes National Park
Amazing Canoeing and birding on Lake Bunyonyi
Kalangala Beach Vacation or Beach Holiday
Service of English-speaking driver or guide
Travel in a customised safari vehicle
Airport transfers
Detailed Itinerary for 21 days Uganda Rwanda Safari
Day 1: Arrival at Entebbe-Kampala
Upon arrival at Entebbe International Airport, you will be welcomed by your guide/driver who will transfer you to your booked hotel in Kampala or Entebbe for dinner and overnight stay.
Day 2: Kampala City Tour
Have breakfast and be ready for a city tour around Kampala with lunch right in the heart of town, an amazing town full of life almost like a mini version of New York City with a lot happening at once and lots of traffic jams. You will tour Kampala's seven wonders i.e The Kasubi tombs, where previous Buganda kings were laid to rest.
The Uganda Museum exhibits a rich history and culture, the Namugongo shrines where some of the first Christians were burnt, the Gaddafi mosque, Namirembe cathedral, Rubaga cathedral, Kabaka's lake that has a number of bird species around it, and Makerere University, one of Africa's finest. Return to your hotel for dinner and overnight after your fun-filled adventure in Kampala.
Day 3: Kampala-Ssezibwa falls / Jinja
After breakfast, head east with a stop at Ssezibwa falls and Mabira forest, where you will have a light forest walk, and see the birds before continuing to Jinja at the source of the Nile. Enjoy the beautiful scenery, the sunset and a boat ride. Dinner and Overnight at your preferred hotel/lodge. Meal plan: F/B
Day 4: Jinja Excursion
After breakfast, start your day at the Bujagali falls. Go quad biking, water rafting, bungee jumping, sport fish, or just look at the beautiful rapids as you relax. Return to the lodge for Dinner and overnight. Meal plan: F / B
Day 5: Jinja tour – Mbale
After breakfast, drive past the sugarcane and tea plantations to Mbale. Visit the Sipi falls, Uganda's most beautiful falls and longest falls in a combination of three. Watch water plunge into a small drop, several meters down. After your hike to Sipi falls, you will retire to your hotel for dinner and overnight.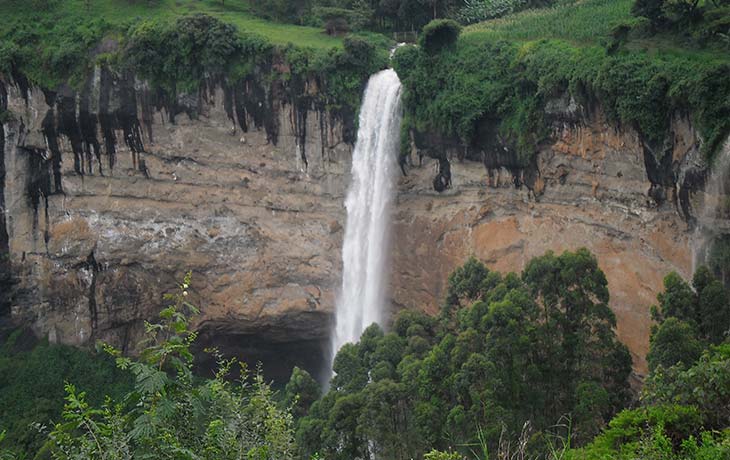 Hiking Sipi falls
Day 6: Hike Mountain Elgon
Enjoy breakfast with magnificent views and then set off for a hike on mountain Elgon. The abseiling which takes about 4 hours is a unique and thrilling experience. This takes you to the sipi falls while going down the edge of a 100-meter cliff. Dinner and overnight at Lacam lodge/Sipi fall camp. Meal plan: F/B
Day 7: Transfer from Mbale to Kampala
After breakfast, set off for Kampala with a stopover in Jinja for lunch. Rest and relax. Dinner and overnight at Hotel African/Cassia lodge. Meal plan: F/B
Day 8: Travel from Kampala to Murchison Falls National Park
After your breakfast, you will be picked up from your hotel by our guide. Drive to Murchison falls National Park with a stop at Ziwa Rhino sanctuary for Rhino tracking. Visit the top of the falls, a breathtaking experience where the Nile is forced through a narrow gap in the rocks only 7 meters wide before plunging down 43 meters. Dinner and overnight at Paraa safari lodge/Chobe safari lodge/Murchison River lodge/Fort Murchison. Meal plan: F / B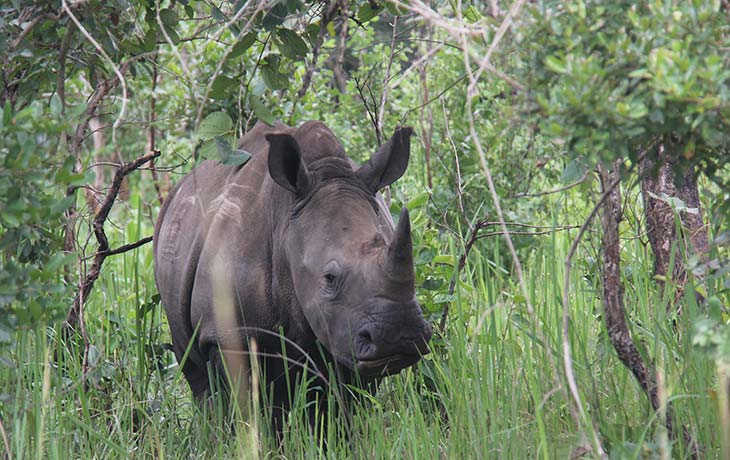 Rhino Tracking at Ziwa Rhino Sanctuary
Day 9: Game drive, Boat ride
Wake up for an early morning game drive that may enable you to see the various early morning risers, especially the cats. Your drive will take you across Lake Albert and the Nile Delta where you will see elephants, buffaloes, antelopes and giraffes. Return to the lodge for breakfast and get a chance to relax before taking a boat cruise in the afternoon after you have had your lunch.
The boat cruise takes about 2 hours and is sighted as the highlight of this trip to Murchison. A boat cruise allows you to get up-close with the animals along the river banks are numerous Nile crocodiles and Hippos. The bird life is also prolific; brightly coloured kingfisher, Bee-eaters darting along the river banks. This ride will take you all the way to the base of the falls. Return to the lodge for dinner and overnight, Meal plan: F/B
After breakfast, set off early for chimpanzee trekking at Kaniyo Pabidi where you will enjoy time with the chimpanzees and watch various species of birds. These are believed to possess about 98% of human characteristics as you well know and it is always an interesting adventure with them because they are so unpredictably human! You will then drive back to your lodge have lunch and proceed to Queen Elizabeth National Park. Dinner and overnight at Mweya lodge / Katara lodge / Enganzi lodge / Bush lodge. Meal plan: F/B
Day 11: Game drive and Boat cruise on the Kazinga channel
Have a game drive at the break of dawn after your breakfast, View elephants, waterbucks, buffaloes, and the Uganda Kobs, among others. Later after spending some time of relaxation at the lodge and having had your lunch, you will head out for a boat cruise at the Kazinga channel where you will see various bird species, crocodiles and a good number of hippos. Return to the lodge for dinner and overnight. Meal plan: F/B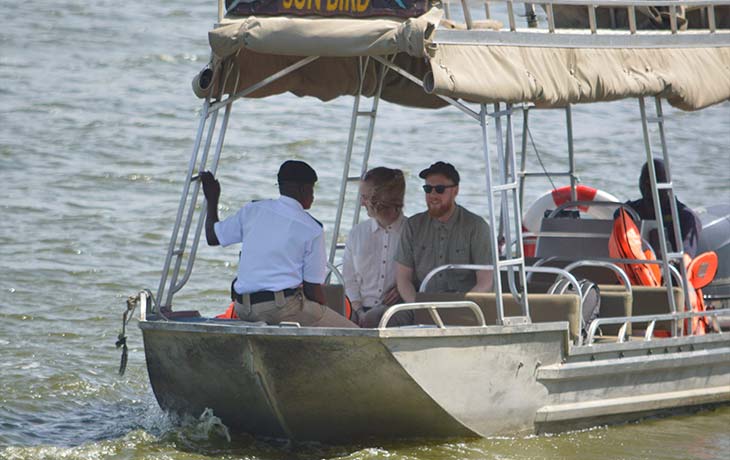 Boat cruise at Kazinga Channel
Day 12: Chimpanzee tracking Kyambura Gorge
After breakfast drive for an early morning chimpanzee trekking at Kyambura gorge. Return to the lodge for lunch and after set off for the Ishasha reserve where you can view the tree-climbing lions. After your game drive, retire for dinner and overnight at Engagi Lodge/Buhoma lodge/ Buhoma rest camp. Meal plan: F / B
Day 13: Gorilla tracking in Bwindi forest National Park
You will have an early breakfast and briefing from the guides before you set off for the Mountain gorilla tracking inside the Bwindi forest. You need to carry drinking water, a rain jacket and jungle boots while the rangers will provide you with a walking stick.
Gorilla tracking is a thrilling activity as you walk through the thick canopies of this beautiful forest. After tracking, come back to the lodge for lunch before making a scenic journey through the beautiful terrain of the rolling hills with terraced landscape to Lake Bunyonyi. Dinner and overnight at Bunyonyi resort / Heritage lodge / Arcadia Cottages. Meal plan: F / B
Day 14: Canoeing and Bird watching on Lake Bunyonyi-Rwanda
After your breakfast, you will wake up to a beautiful bird-watching experience while canoeing. Enjoy the beautiful scenery of Lake Bunyonyi which is a magnet for various bird species. You will drive to the Katuna border after 2-3 hours of enjoying various birds, and cross over into Rwanda. Enjoy the beautiful landscape, forests and plantations on your way to Kigali. Visit the craft villages there and thereafter check into your hotel. Dinner and overnight at Kigali Serena Hotel / Okapi Hotel. Meal plan: F / B
Day 15: Kigali City tour
After early morning breakfast, you will visit the genocide memorial centre and listen to their stories. After lunch, you will have a city tour safari. Relax in the late afternoon, visit a cinema hall, have coffee, go for a swim or go shopping. Return to the lodge for dinner and overnight, Meal plan: F/B
Day 16: Transfer from Kigali to Volcanoes National Park
After breakfast, transfer to Volcanoes National Park. Lunch en-route and after a visit to the pygmies on the way. In the evening you will retire at the Muhabura Hotel or Le Bambou Gorilla Lodge. Meal plan: F / B
Day 17: Gorilla trekking Volcanoes National Park
After breakfast, we bring you to the starting point of the gorilla tracking. After the briefing, you begin your tracking of the gorillas. The bamboo forest will drip around you as you first hear the breaking of bamboo signalling the group is near and then you will be face to face with one of the most delightful and fascinating creatures in the world. After an hour's viewing, you will make the trek back to the lodge for dinner and overnight. Meal plan: F / B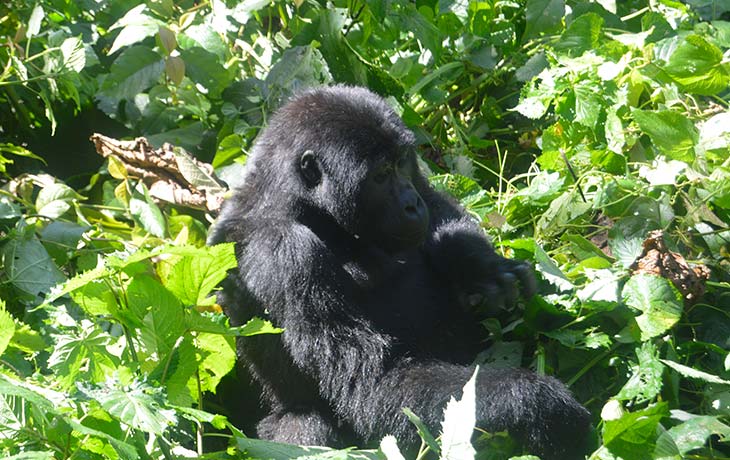 Gorilla Tracking in Bwindi Impenetrable Forest National Park
Day 18 : Transfer from Kigali to Kampala
After early morning breakfast, you will set off for Uganda. You will have a stopover in Mbarara for lunch and at the Uganda equator for snacks, photos and informative talks. Dinner and overnight in Kampala Serena / Hotel Africana / Cassia lodge. Meal plan: F / B
Day 19: Kampala to Kalangala Beach Vacation
The guide will pick you up at your hotel towards midday. You will drive to Entebbe in time for the 1:00 pm ferry. Enjoy Lake Victoria at its best while cruising to the beautiful little island of Ssese. You will arrive at Uganda's best-kept secret, the Ssese Islands at around 3:00 pm. Have barbeque dinner around a bonfire by the beach where you may dance your worries away till you are tired and retire to bed. Overnight at Ssese Palm beach/Mirembe resort. Meal plan: F / B
Boat cruise on Lake Victoria with MV vannesa
Day 20: Kalangala Beach Holiday
Wake up to a delicious Ssese island breakfast and decide how you want to spend the day, You may go for a swim, a boat ride, forest walk through the islands, sport fishing, beach volleyball or any other tourist activity of your choice, have lunch and have a relaxed afternoon. Dinner and overnight, Meal plan: F / B
Day 21: Kalangala island to Entebbe
Set off from Ssese islands passing via the Nakiwogo landing site. Upon arrival, you will set off for the Uganda Wildlife Education Center, a wonderful place to visit the animals outside of their wild habitats and get to have a one-on-one with some of the animals if you take part in the, "behind the scenes" program where you get to feed and pet some of these animals. You will then have lunch and continue to Entebbe international airport for your flight back home or be dropped off at your hotel/resident, depending on your flight schedule.
21 days Uganda Rwanda Primates Safaris includes:
Airport transfers pick up and drop off
Accommodation and meals as per itinerary
En-route meals
Gorilla tracking permit
Chimpanzee trekking permit
Transportation by safari vehicle
Guided Nature walks
Bird watching at Bunyonyi islands
Driver allowances
Park Entry fees
Visit Kalangala Ssese islands
21 days Uganda Rwanda Primates Safaris Excludes:
Airfare
Uganda Visa
Luxury drinks
Laundry
Tips to local guides
Telephone and porter fee while trekking
Personal insurance
Personal shopping bills and cigarettes
Any other item not mentioned above